Children's Fresh Air Farm Centennial
Since 1923, children in Birmingham have been able to retreat to the Children's Fresh Air Farm in Bluff Park to experience recreation time outdoors, nourishing food, and fellowship with caring teachers and friends. One hundred years later, IPC is still welcoming campers each summer who are able to make significant academic gains in their reading and math skills, thanks to dedicated teachers and volunteers that make the Summer Learning Program possible.
---
Centennial Renovations at the Farm
Garden Renovations
Completed in November 2022, the centennial garden renovations create a more accessible and safe space for enjoying the beauty of nature. In addition, a massive hedge of invasive privet has been removed and replaced by tea olives to welcome all to the Farm.
Pool House Update
Completed in May 2023, the Clinton Taylor Aquatic Center, named in memory of George and Honey Taylor's son, now serves the needs of all who use the Farm— the Summer Learning Program, Bibletimes Marketplace, families in the community, and IPC memberts. The significant property improvements included ADA-compliant restrooms accessible from the outside the pool gates, new shower and changing areas, laundry operations onsite for the lifeguards who wash the towels and bathing suits given to each camper, and shade from the summer sun.
---
Upcoming Events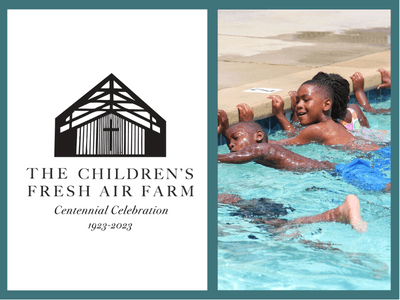 We have achieved our fundraising goal for the house, which is officially called the Clinton Taylor Aquatic Center, named in memory of George and Honey Taylor's son Clinton. If you would still like to contribute to this project, we will set aside those funds for maintenance and upkeep to make sure it remains as beautiful and safe as it is today.
---
About the Children's Fresh Air Farm