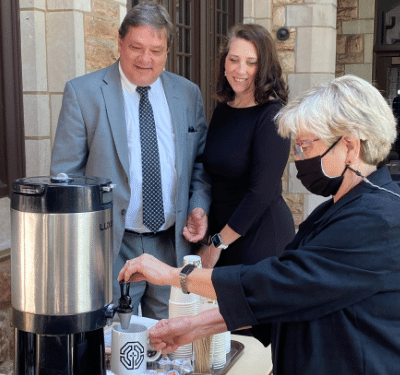 We hope you have been following the exciting updates as we continue to re-open our beloved church. Just this past Sunday, those who attended worship services in the Sanctuary were able to use the pew Bibles and Hymnals to follow along in worship. Also with the return of the 8:45 am worship service, all are invited to a new coffee hour each Sunday for fellowship between the two morning services. 
With more opportunities to join us in person, we want you to feel safe and comfortable to come back to church, whether for a return to the familiar or perhaps to find a new way to worship with us. Right now, preparations to reintroduce the following are underway by IPC staff in coordination with the Re-opening Task Force and various committees: 
Sunday, May 2: Pew cushions return. Pews with cushions will mark available seating.
Monday, May 3: The parlor and alley doors will be unlocked. The Community Ministry doors on 31st Street will remain locked with doorbell access. 
Sunday, June 6: Reservations will no longer be needed to attend Sunday worship services. 
If your group would like to request space at the church to meet, please let us know. Recently, the Bridge group has returned to meeting twice a week and the Advanced Sunday School Class and Friday Morning Men's Bible study are now meeting in the Garage. Various Grace Groups are making use of the church space, along with the Youth Group meeting on the patio at Highland Hall. If you'd like for your group to resume in-person meetings at the church, contact Bill McKelvey with an advance notice and he will take the request to the IPC's Re-Opening Task Force. 
Please note, the seating cap stays in effect at 180 worshippers in the sanctuary and 75 in Highland Hall. Wedding, funeral or baptism services continue to be available in IPC's sanctuary with seating for up to 164. Masks remain required in hallways, the sanctuary, Highland Hall, common spaces, and elsewhere as required by the current City of Birmingham ordinance, and we ask you to stay at a safe distance from others.  
Thank you for your continued patience and perseverance as we determine what's next in preparing to fully re-open IPC.