"This do in remembrance of me."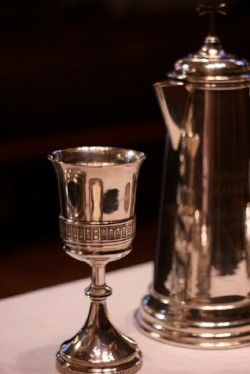 Communion
Communion is served the first Sunday of the month at IPC. All Baptized persons are welcome to participate in Communion. At the Sunday morning services in the sanctuary, the Communion elements are served to the congregation in their pews by the Elders. The congregation remains seated, and the elements of bread and grape juice are passed on trays through the pews.
For the Wednesday noon Chapel services and the Sunday evening services, Communion is served every week by intinction. Persons go to the front by the Communion table and receive a piece of bread broken by the minister. They then dip the bread into the communion cup, eat the bread and return to their seat. At certain special services in the sanctuary, such as the annual Ash Wednesday service, communion is usually served by intinction.