Children gather on Sundays for Atrium as we share developmentally-guided Christian religious formation inspired by Catechesis methods where the focus is on the contemplation and enjoyment of God. All classes begin on Sundays at 10 am, and children are divided into atria by age/grade.
There will be no Atrium on Sunday, March 26 due to Spring Break.
---
Updates from the Atrium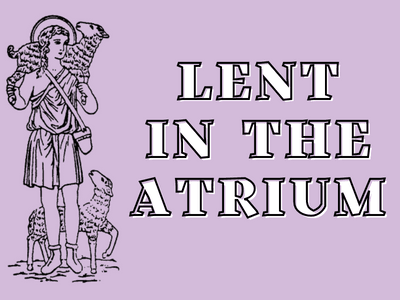 Check out what IPC Children have covered in the Atrium on Sunday mornings during Lent.
Take a look in the Atrium
---
Questions?
What is Catechesis of the Good Shepherd?

Catechesis of the Good Shepherd is a Montessori-based method of spiritual formation for children, and this program serves the three to ten-year-old children at IPC as their Sunday school. It is a religious experience shared by children and adults listening to God's word together. The children work in an atrium, which is a special classroom prepared with hands-on lessons to help them explore the Bible and our Presbyterian worship practices. 

The central parable of Level I catechesis is the Good Shepherd, who calls us by name. The 3 to 6-year-old child is ripe for relationship, and in catechesis they learn and grow in Jesus' love for us, his sheep. The True Vine is the central parable for Level II. Through questions and discussion we think about how Jesus and the word of God is our sap, and just as it feeds the plant, it feeds us and our lives. When we "remain on the vine," we bear fruit. As the children grow and develop in the six to ten-year-old age group, they are gaining a greater capacity to place themselves in the context of time and contemplate their role in the world and God's kingdom. 

Catechesis Glossary

Catechesis: [pronounced ka-tə-'kē -səs] The word "catechesis" is often defined as oral instruction given to catechumens (those preparing for baptism). It is from a Greek word, related to the word "to teach," and means "resounding" or "echoing down." It refers to the passing on of the truths of our faith. It is a religious experience shared by children and adults listening to God's Word together.

Atrium: [pronounced 'ā-trē-əm] The dedicated space or room for children to listen to Scripture, meditate on it, pray, and begin to live it according to their own rhythm. The atrium environment contains furniture and materials that are child-sized, correspond to the child's developmental needs, and encourage freedom of movement to engage in their own personal religious work. In the atrium, children are taught to talk quietly and move slowly; creating a calm, quiet, and sacred space where children actively work on their religious lessons, pray, sing, listen to Scripture, and contemplate the presence of God.

Catechist: [pronounced 'kat-i-kist] The trained educator who directs the activity of the child in the atrium in a discreet manner, and leaves the child to continue on his or her own whenever the child is capable of doing so. He or she serves as a director and guide to assist in the child's spiritual formation and religious education, recognizing that the religious education is the child's personal work, and it is the Holy Spirit who engages the child in a personal dialogue and is, thus, the true Teacher.
---
Worship Care at 11AM Service
Following Sunday school, children (age 2 – 5K) may either stay in Atrium and be taken to worship care by our volunteers and Catechists, or you can pick up from Atrium and have them join you in worship. Noted in the bulletin, there will be a time in worship for children 5K and under to be led out of the sanctuary by our acolytes and taken to worship care. This allows older children to experience part of worship in the sanctuary and prepare to stay for the entire service at age 6. Pick up from worship care at the conclusion of the 11 am worship service in Room G08. Worship care is supervised by parent volunteers and IPC childcare employees
Nursery Care
Care for infants under the age of two from 8:30 am - 12 pm in Room G22/Day School Nursery.
---