In our educational ministry we strive for knowledge and understanding of the biblical story, application of God's story in our everyday lives and service of compassion, reconciliation and justice in Christ's name.
Sunday Morning Classes
Classes meet from 9:00-9:50 am, unless noted.
NEW! Discovering the Bible | Room 217
Join us for a new Sunday School class open to all ages looking for a back-to-basics Bible study! We will follow the Kerygma Discovering the Bible study guide but participants can drop in at ANY point during the year. Whether you are beginning your faith journey, or just want to take a fresh look at familiar scripture, we welcome you.
Contact: Rev. Susan Clayton
Book of Matthew | Room 302
The Advanced Class is taught by leaders from the Bill Shanks Friday Morning Bible Study and is made up of mostly retired adults. The class has traditionally studied books of the Bible for their curriculum.
Facilitator: Lee Walthall
Bridges | Garage at Highland Hall
This class is for parents with children from infants to sixth graders who are looking to form friendships and grow in faith, marriage, and parenting. We represent varying stages in our life, faith journey, and knowledge of scripture. 
Facilitator: Anna Hartzog
Crossroads | Garage at Highland Hall
As parents of older children and teenagers, we find ourselves at a number of intersections: launching your kids while caring for aging parents, all while navigating your own transitions as a person of faith. If you are a parent of an older child or teenager (or anyone who finds themselves at a crossroads) and looking for a meaningful place for connection, join us! 
Facilitator: Emily Vanlandingham
Celebrating Sabbath Class | Room 304
Please join us for a Presbyterian Women's (PW) Sunday School class open to all ages. Join us for a lively class of discussion and fellowship following the PW Horizons Curriculum. 
Facilitator: Mary Ann Morrow & Members
Book of Mark Class | Room 309
All IPC members and visitors who are interested in studying God's word and its application in our everyday lives are invited to join the Reformed Class for a focus on "Christian Calling" in select scriptures from the Old and New Testaments.
Facilitator: Wendell Allen
Grace, Gratitude & Generosity Class | Room 306
The Wonder Years Class is made up of mostly median adults and will continue their study of "The Great Courses: The Holy Land Revealed" this fall. New class members are welcome to join at any time.
Facilitators: Matt Hunter and Larry Krannich
Young Adult Bible Study | Meets offsite on Sunday from 3-4:30 pm
Facilitator: Mary Stewart Beasley
---
Get Involved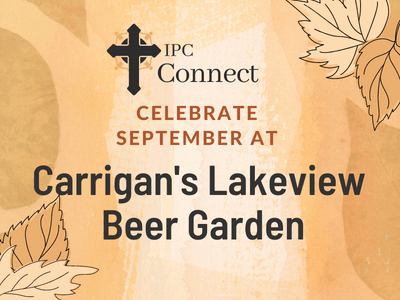 Celebrate fall with your IPC Connect friends at Carrigan's Beer Garden in Lakeview. There is no admission charge and all food and drinks are self-pay. The registration is for headcount only to help us plan. Bring the entire family for some great fun, food, and fellowship. All ages are welcome!