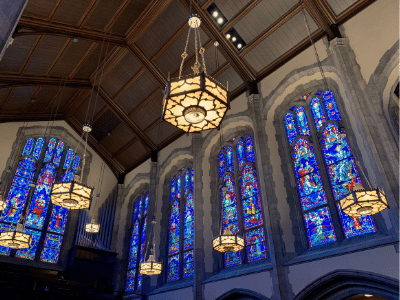 With the recent expiration of the Birmingham city mask ordinance on May 24 and with the favorable conditions in our community, the House & Properties Task Force has lifted all Covid-19 restrictions on the use of church property.
We feel that it is safer for everyone to be fully vaccinated, and encourage everyone who is eligible and medically able to get the vaccine. If you are not fully vaccinated or medically at-risk, we encourage you to wear a mask while visiting the church. Masks will remain optional from this point forward and parents will have the discretion whether their children wear one or not.  
IPC now resumes and/or lifts restrictions on the following: 
Meals can be served on-site.
Passing of the Peace as you feel comfortable.
Masks are optional for all age groups.
All pews will be open for seating.
No limits on number of people allowed in services, groups or classrooms.
No limits on number of people allowed in the church vans. No masks required.
Worship pads and pens will go back into the pews. Deacons will pick up after each service. 
Collection plates will be passed in June.
Communion will continue to use the pre-packaged materials until recently purchased supplies are consumed. Additionally, we will continue to livestream the 11 am worship service each Sunday.   
We want to thank everyone for their patience, encouragement, and support over the past 15 months. This journey has taught us how to weather a storm of epic proportions and trust in our Savior to guide our path all the way.
Gratefully submitted by: House & Properties Re-Opening Task Force
Mike Graham | Chair, House & Properties
Alan Deer, Elder | Session, House & Properties
Dr. Susan Eiland, MD | Lay Leader
Dr. Steve Hunt, MD | Clerk of Session
Paul Leaver | Lay Leader, House & Properties
Julie Rediker, RN | Lay Leader, IPC Day School Committee
Dr. Sean Vanlandingham, MD | Lay Leader
Bill McKelvey | IPC Director of Operations & Administration
Sandra Putman | IPC Administrative Assistant