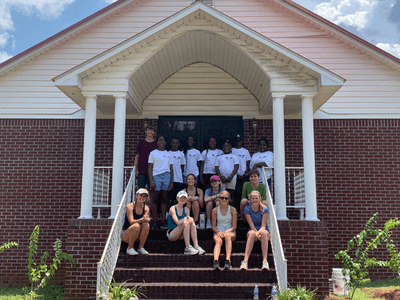 Ever wonder how the Youth Ministry Team uses the proceeds from selling Christmas ornaments in the Parlor throughout Advent season, or what happens to the school supplies collected during Bibletimes Marketplace each summer?
The Youth Mission trip to the Black Belt of Alabama this past summer is a perfect example of how these gifts from the congregation are used to God's glory.
In June, youth at IPC traveled to Camden, Alabama, to partner with Jasmine Kennedy and her group L.O.T.Y.G. (Leaders of Tomorrow Youth Group) for a day of hard work, fun, great food, and memory making.
Our youth began the morning with landscaping work to beautify the campus at Rosemary Missionary Baptist Church. They came together during the afternoon to pack backpacks for 48 local children who were headed back to school with the school bags and supplies sponsored by IPC.
From Logan Woodall, IPC Youth, Mountain Brook High School Senior
"On June 25, the IPC Youth Group and I traveled down to Camden, Alabama, on a day-long mission trip to help out their community. The two main projects we did in Camden were planting trees and flowers around Rosemary Missionary Baptist Church and filling many backpacks full of school supplies. But we also got to do so much more than that. We connected with many of the young kids from their community by spending the day with them, while having fun and working with them.

We started the day off by arriving at Rosemary Missionary Baptist Church and unloading all of our supplies. We had six trees in the bus, so we decided to plant those first. We planted three trees on each side of the church, and, even though it was difficult work, everyone pitched in to dig the holes, which made the process much more fun and easy. It was also very hot that day, but, luckily, we had many helpers running around with water guns to cool everybody off.

After we finished with the trees, we quickly planted the flowers all around one of the entrances into the church and drove over to Commissioners Pit Stop, a local restaurant. At The Pit Stop, we got to sit down and talk with the Leaders of Tomorrow Youth Group and learn more about the town that we were in. After we ate lunch, we began to pack backpacks full of school supplies to donate during Bibletimes Marketplace. We packed all of the bags very quickly due to our assembly line and good teamwork. At the end of the day, we all held hands in a circle for a prayer and a beautifully sung song by a couple of girls from the Leaders of Tomorrow Youth Group. It was a great experience and would love to go back again to help their community!"
---
How to Purchase an Ornament
At IPC: Ornaments are available for purchase on Sunday mornings in the Parlor during Advent. You may also purchase weekdays at the receptionist desk during church office hours.
Online: Purchase online and pick up at IPC Sunday mornings or during church hours.