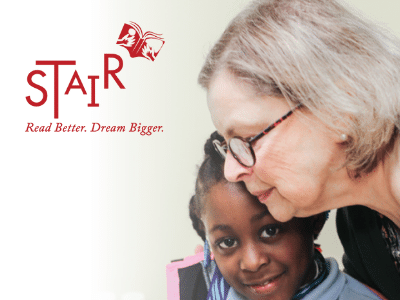 For 15 years, Evelyn Puckett has poured her time and energy into serving the students at STAIR of Birmingham in her roles as IPC Site Director and former Program Director. Loved by countless tutors, students, and families, she's made some best friends along her journey in supporting Birmingham students on their adventure to reading better and dreaming bigger.
"It is with immense gratitude for her years of service to our students that we say goodbye to Evelyn," said Karen Griner, CEO of STAIR of Birmingham. "Evelyn announced her retirement from STAIR last month and has been graciously helping with the transition as we move our site into Hayes K-8 School. She has left a lasting mark on the STAIR program, and we wish her the best in her next adventure."
Our IPC family joins with STAIR in expressing our immense gratitude to Evelyn for her 15-year tenure with STAIR. IPC will still have opportunities to support STAIR at Hayes K-8 school, such as our annual Coat Drive and Spring Cookout at the Children's Fresh Air Farm. STAIR students will be invited to participate in IPC's Summer Learning Program, and Evelyn will continue to connect with Hayes K-8 families through social services.
IPC still has tutors at Hayes K-8, and STAIR is still recruiting tutors. We are also fortunate that Lu Mahon is Evelyn's successor, and she will help make sure the STAIR students and their families remain connected to IPC in the ways we have mentioned and more.
Lu Mahon, who was recently named to fill Evelyn's role, is no stranger to STAIR. A retired educator, Lu began tutoring with STAIR in 2014 and shortly afterward became the Site Director at STAIR's former South Hampton site.