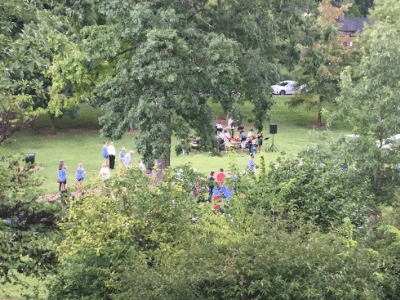 My powers of persuasion rarely work on my kids. But I'm hoping for better results today. I'll be straight with you—I want to talk you into doing something. I'm hoping to convince you to come this Sunday to our Fall Kickoff. 
I'm looking forward to what this fall holds. And for us this Sunday, that means…
Seeing you and your smiling (albeit masked) face in worship,
Seeing you grow in your faith through our ministry fair, and
Seeing you connect with old and new friends in at our churchwide celebration in Rushton Park.
It all boils down to seeing you.
For those who can join us in person on Sunday, our team has compiled the must-know information below to help you navigate the day.
If you plan to eat lunch with us—and want to save some time or don't regularly carry cash or your checkbook—use the pre-pay lunch option. The last day to pre-register is Aug. 13. Full Moon is providing barbecue sandwiches (pork or chicken), coleslaw, chips, cookies, and tea. (Adults $10, Children $6). You can also enjoy a complimentary, cool cup of lemonade or water from Community Ministries.
If paying for lunch on Sunday, bring cash or a check as we will not have other payment options available the day of the event.
Also, it's casual dress on Sunday. Yes, casual dress at IPC. It's hotter'n blue blazes and while we can predict it will be hot and muggy, summer showers are less predictable. So watch the forecast and bear with us if we need to shift plans.
At the 10 am hour, adults are invited to attend our ministry fair in the Great Hall. You can explore booths and find ways to get involved in our ministries. Children (2s-6th grade) are welcomed back to in-person Catechesis of the Good Shepherd. For Youth, Sunday School (7th-12th graders) and Confirmation Classes (9th & 10th graders) begin in person.
During the 11 am morning worship service, all children, youth, and teachers are invited to bring your school bags into the sanctuary. We will be blessing backpacks, students, and teachers and offering prayers for the school year.
Following the 11 am worship service, stick around for a churchwide celebration! Find lunch (pre-pay option is recommended), tents, tables and chairs, music, yard games, inflatables, and other fun activities at neighboring Rushton Park. I'll be sitting in the dunking booth. So, if you don't like the sermon, you'll have a chance to let me know! I've also been told there will be a "sweet" treat compliments of the stewardship committee. And golf carts will be available to help transport members. 
There's so much to be excited about this fall at IPC. I am deeply grateful for the staff members who over the past months have been planning (and re-planning) our official kick-off for the fall term and all the ways you can get involved in the life of our church. 
I am also grateful for the Re-Opening Task Force who came out of early retirement to help us navigate the new surge in COVID-19 due to the Delta variant.
Find more from the task force as well as the schedule for the fall kick-off below, and make plans to come to church on Sunday.
Will you join us?