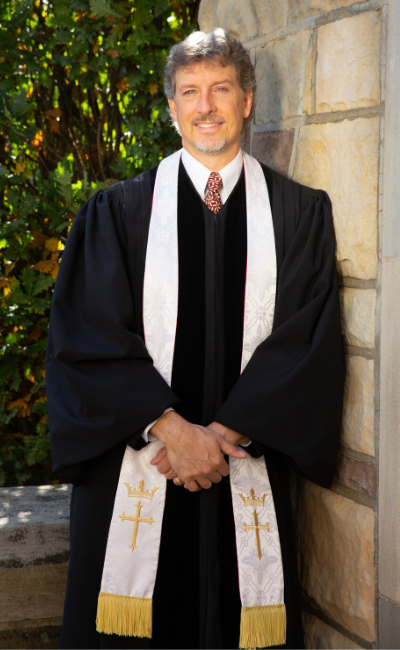 It has been an honor to each of us to have been selected by our congregation to serve for the last year and a half on the Pastor Nominating Committee. We so appreciate your trust and prayers. We have been hard at work during this time meeting weekly, both in person and via Zoom; listening to hundreds of sermons; talking to seminary presidents and other references; and traveling east, west, north, and south, even during a pandemic, to hear ministers preach in their home churches. God has truly been in our midst as we have traveled on this spiritual journey, both personally and as a Committee committed to doing God's will for our beloved Independent Presbyterian Church.
It is with great joy and excitement that the PNC enthusiastically nominates Reverend Kevin J. Long to the congregation to be our eighth Pastor–Head of Staff. Kevin is currently the Pastor-Head of Staff at Sewickley Presbyterian Church outside of Pittsburgh, PA, where he has served for the last ten years. Kevin is not only an exceptional preacher, but he is a minister in every real sense of the word. He is passionate, smart, honest, humble, kind, and an intent listener. He cares deeply for the needs of his associates, staff, and congregation. He will lead the same at IPC with a common mission in the direction of God's will. He is joyful to begin this inspirational journey with us as a family. Kevin is a spiritual leader, and Jesus is at the center of Kevin's faith and teaching. He is committed to our tradition of mission and the beauty of our service of worship. Kevin is excited about how and where God will lead our congregation moving forward, both in our community and into the world beyond.
Kevin is married to Rebecca, whom we adored from the beginning, when she and Kevin welcomed us into their lovely home to join them for a delicious lunch following worship. We have spent much time with Kevin and Rebecca in Pittsburgh and in Birmingham in prayer and fellowship, and we have shared many meals, car rides, and both light-hearted and serious conversations. They are a team in ministry and in marriage. We have no doubt our congregation will embrace them both as well as their wonderful children. James will be a senior next fall, and Jessica and Katelyn will be ninth and eight graders, respectively. We are excited about the future of our youth ministry at IPC and the energy and contributions this young family will bring to it.
God has clearly led the PNC to Kevin and his family, and him and his family to IPC and Birmingham. God is very good and has certainly been in charge of this process from the beginning. We are thrilled and so joyful that Kevin and Rebecca accepted our call. We know the IPC Family will now join us in welcoming the Longs with open arms and hearts to our church and to our community. We pray for much love and happiness in their new family at IPC and in their new home in Birmingham.
CLICK HERE to learn more about Rev. Kevin J. Long 
The PNC is comprised of the Honorable Teresa Pulliam (chair), Beth Adams, Wendell Allen, Sandy Bean, April Deal (1953- 2019), Susan Dulin, Betsy Holloway, Robert Posey, George Taylor, Oliver Williams, and Emily Wykle.