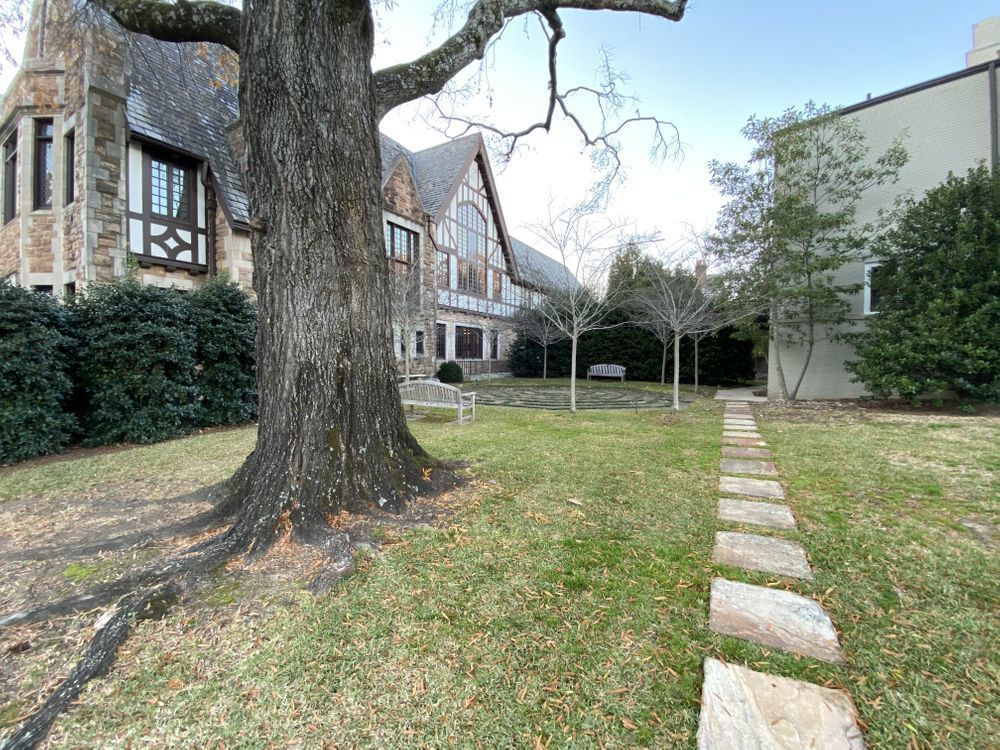 Trees—everywhere you look there are a multitude of them. As one travels through Birmingham, it would be easy to drive by them without giving a second glance or thought unless it happens to be a tree with a special memory attached to it. Like your favorite climbing tree as a child, or the one that held a rope swing or one that provided shade as a relief from the summer heat; trees like these often hold a very special place in our hearts.  
IPC has a special tree like the ones described above. In the center of the property is an ancient Willow Oak that is located in a garden at the Labyrinth. Like all things living, our Oak tree has reached its life span and it has to be removed on Friday, January 15. 
Why is this a special tree? Because it has stood on the church property for possibly a century, maybe longer; it has provided shade for those that walk the Labyrinth or for those that come to the garden area to pray; it has also provided relief from the sun for church picnics; and it has served as a landmark for the church.  
Since the drought of 2016 a Board Certified Arborist has been inspecting and treating the tree with the hope of prolonging its life. This week the tree will be removed, however, its legacy will carry forward. 
I have been in contact with Cliff Spencer of Alabama Sawyer. He will mill the massive trunk into sizeable lumber that will be repurposed at a later date. Some possible uses for the wood could be for future furniture needs or to make wooden items for ministry fundraisers. 
With the removal of the tree, there are already conversations on planting a suitable tree in that area to replace it. In December of 2020 Session approved a proposal to study the costs and design for future columbarium needs. The location for the new columbarium is proposed to be in the area of the dying tree.
The grand Willow Oak at IPC reminds me of the cycle of life we all face at some point in time. Isaiah 40:7 tells us that "the grass withers, and the flower fades, but the word of our God stands forever."  
Our hope is in the unchanging, unfailing love of the Father and His word that we cling to in uncertain times, which gives us confidence to face the future.