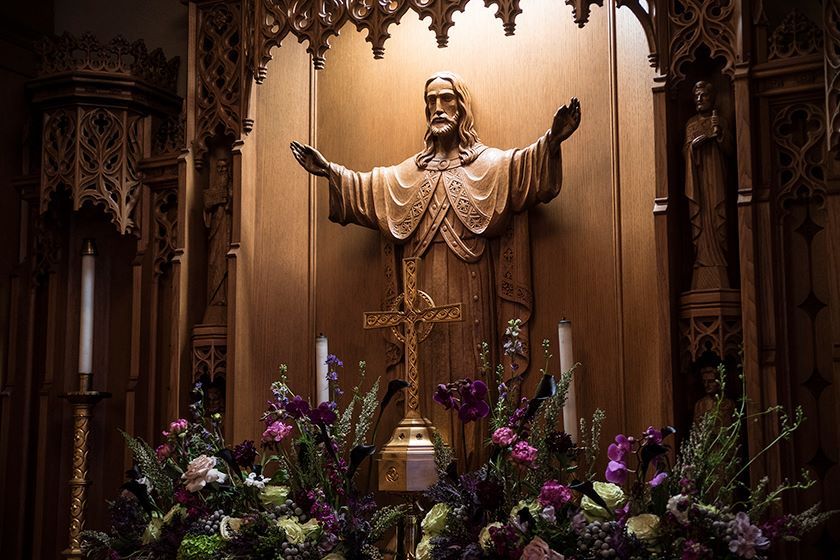 W.W.J.D. The woven bracelets with those letters woven in them became popular in the 1990s. But back in the 1890s, an evangelical preacher in London started asking Christians to ponder, "What would Jesus do?" As we enter these final days of Holy Week and remember those final hours, final words and final actions in Jesus' life, it's a good time to look around our world and our own lives to consider, "What would Jesus do?"
The answer should lie in his final mandate (or commandment) to his disciples on Maundy Thursday in which he said,  "I give you a new commandment, that you love one another. Just as I have loved you, you also should love one another." 
We face uncertainty and perhaps some loneliness and fear during this COVID-19 pandemic. But you can find some peace and certainty in Christ's love—the greatest love for all of us that led to his sacrifice on Good Friday. So honor Christ by following his command to love one another. It can be a simple act of kindness, like a call to a friend, neighbor or perhaps someone you typically see at IPC in worship or a class. You can show love to our neighbors by signing up to make snack lunches for the women and children at First Light, donating toiletries to the shelter, or making a donation to IPC Social Services. Right now, we are using our Social Services Fund to help cover gas, utilities, rent, cleaning supplies and other necessities for our STAIR and LIFT OFF families. Each week, our staff receives more calls for assistance. While our IPC Food Pantry is closed, we are still collecting money to continue feeding more than 25 families a week through larger vouchers to City Meats. 
Tonight, join us by livestream for the celebration of Jesus' last supper during our Maundy Thursday service at 6:30 pm. Our Holy Week services continue with the Good Friday service and the commemoration of Jesus' sacrifice at noon tomorrow via livestream. Then tune in again Sunday to rejoice and proclaim the good news that Christ our Savior is risen at 11 am. This will be our only Easter Sunday worship service. As I mentioned last week, you won't have to rush to get ready in the morning to get a good seat. You will have the best seat from your home. Remember, the services can be viewed via our Facebook page and livestream.
See you later this week and stay safe. Be careful out there!
Bill