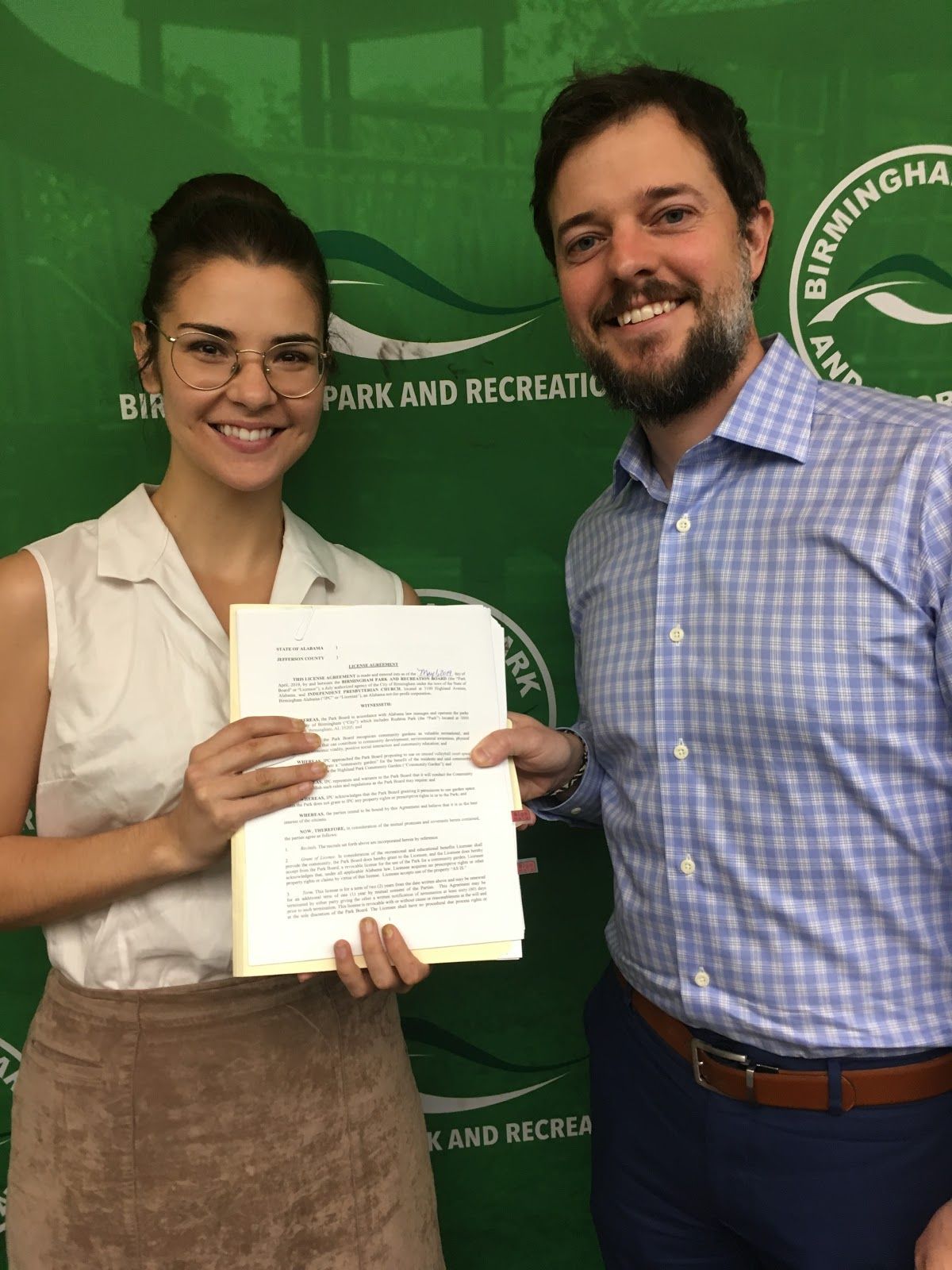 The story begins with a garden with no one to till it, so God forms a mud creature out of the dust and breathes life into it. This mud creature is called "Adam," the Hebrew word for human. The word is also related to "adamah," which means ground. The adam, therefore, is a being fashioned from the ground and made in connection to the earth to till the ground and tend the garden.
The Highland Park Community Garden grew out of the belief that we and the earth are already equipped with everything to provide abundant healthy food for all people.
Grounded in our faith and rooted in these realities, IPC is working with Birmingham Parks and Recreation, the Highland Park Neighborhood Association and local neighbors in the community to launch the Highland Park Community Garden, the first community garden in a City of Birmingham park.
Finally, after three years, we signed the project license agreement with the city. As temporary overseers of the land, we intend to:
Give freely of our labor to provide a space for our neighbors to grow food for everyone who wants or needs it.
Extend our practice of welcome and hospitality by creating public green space that is open to the community.
Be in relationship with our neighbors in Highland Park, and identify and develop partnership opportunities to make growing and eating fresh food a possibility for everyone.
We don't actually expect to grow enough zucchini this summer to feed all of the 209,880 people living in Birmingham. But we believe that if we work to create a culture of generosity, and ground our action in the idea that the more we give away, the more we have, profound change can begin to take place.   
The concept of the Highland Park Community Garden may become a template for future developments within the City of Birmingham. It has also spawned the creation of a farmers' market in the church parking lot as part of a Highland Park Food Initiative.  We're still in the beginning stages. But we believe that we are all, every one of us, beloved, and are worthy of health, of the holy tiredness that follows work done together and the fullness that settles after sharing a meal.  We are telling a story that begins with God's breath over the deep, and continues in an ongoing, outpouring process of creation in which we, and every creature, plant and drop of water on the earth, are continually taking part.
This summer, we continue the effort. With the launch of the Highland Park Community Garden looming in March 2020, we aim to raise the remaining funds to complete the construction of the garden by the end of the year.
Get Involved
We are building the garden together. If you are interested in volunteering or learning more, email us at highlandparkgardens@gmail.com