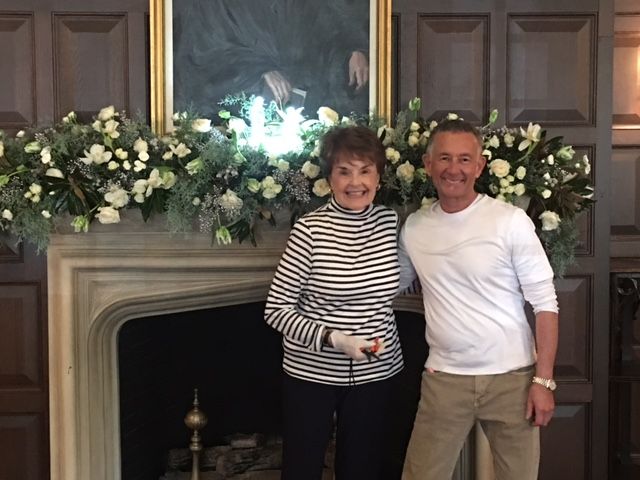 Every December, the Chrismon tree goes up. Wreaths are hung. Flowers are arranged. Freshly baked cookies arrive by the tin. Polished silver is laid out. Independent Presbyterian Church and several homes deck their halls for a beloved Christmas tradition, the Holiday House Tour.
"The excitement. It's the largest the thing our church does," said longtime volunteer and IPC member Robert Hill.
It's impossible to ignore the excitement in his voice talking about the Holiday House Tour. Over the past five years, the tour has welcomed more than 10,000 visitors into 28 homes. More than 6,000 finger sandwiches and countless cookies have been served- all thanks to 1,300 volunteers. For many of those volunteers who return every year, this holiday tradition is a labor of love.
"It's the friendship and the comradery. It's a tradition pulling a shift at a house with your friends or going on the tour together," said Robert.
"We love to do it. We are like frick and frack. We know what the other one is thinking. Robert and I love doing it together," added fellow member Paula Crockard who always works with Robert to design and decorate the church parlor. "During that time of the year, everyone is going to buying gifts, going to church. I so look forward to doing this. It's like having recess and 
play period because it's so much fun."
If you happen to walk through the parlor as the pair is working or through the other spaces occupied by busy volunteers, you'll witness smiles, laughter and memories being shared. The tour, set for Saturday, December 14 and Sunday, December 15 this year, always brings people together to share in holiday merriment while raising money for ministries benefitting women and children.
"Robert and I were neighbors. I invited him to go because I wanted him to go with me to meet other people in the church. He was new to the church," said IPC member Virginia McCormick of the first time that she reached out to Robert to attend the Holiday House Tour with her.
That was more than 15 years ago. They've never missed going on the tour together or the opportunity to invite others along for the experience of seeing and being inspired by the decorations- an idea which IPC's Founding Pastor Dr. Henry M. Edmonds didn't think would catch on.
Ahead of the first tour in 1949, Dr. Edmonds wrote, "I said when I first heard of that plan: 'People don't want to see houses. That's bound to be a flop.' But the smart women who conceived the idea knew more than I did. People thronged the church and the houses driving in from nearby places- Arab, Tuscaloosa, Oneonta, Bessemer.'"
Now 70 years later, people travel across county and state lines to participate in the merriment and joy that comes from this holiday tradition.
"We feel like we have to honor the traditions of the church," said Crockard. "It's a gift to us that we get to do it."
The 2019 tour will be Saturday, December 14 from 10 am- 4 pm and Sunday, December 15 from 1- 5 pm. Tickets are $30 and provide entrance to IPC and several decorated homes. Tea will be served in the Great Hall at IPC. A shuttle will run from the IPC parking lot to all homes.
All of the proceeds will benefit the Children's Fresh Air Farm, STAIR, and First Light Women's Shelter. Tickets can be purchased at the church beginning Dec. 1 or online.