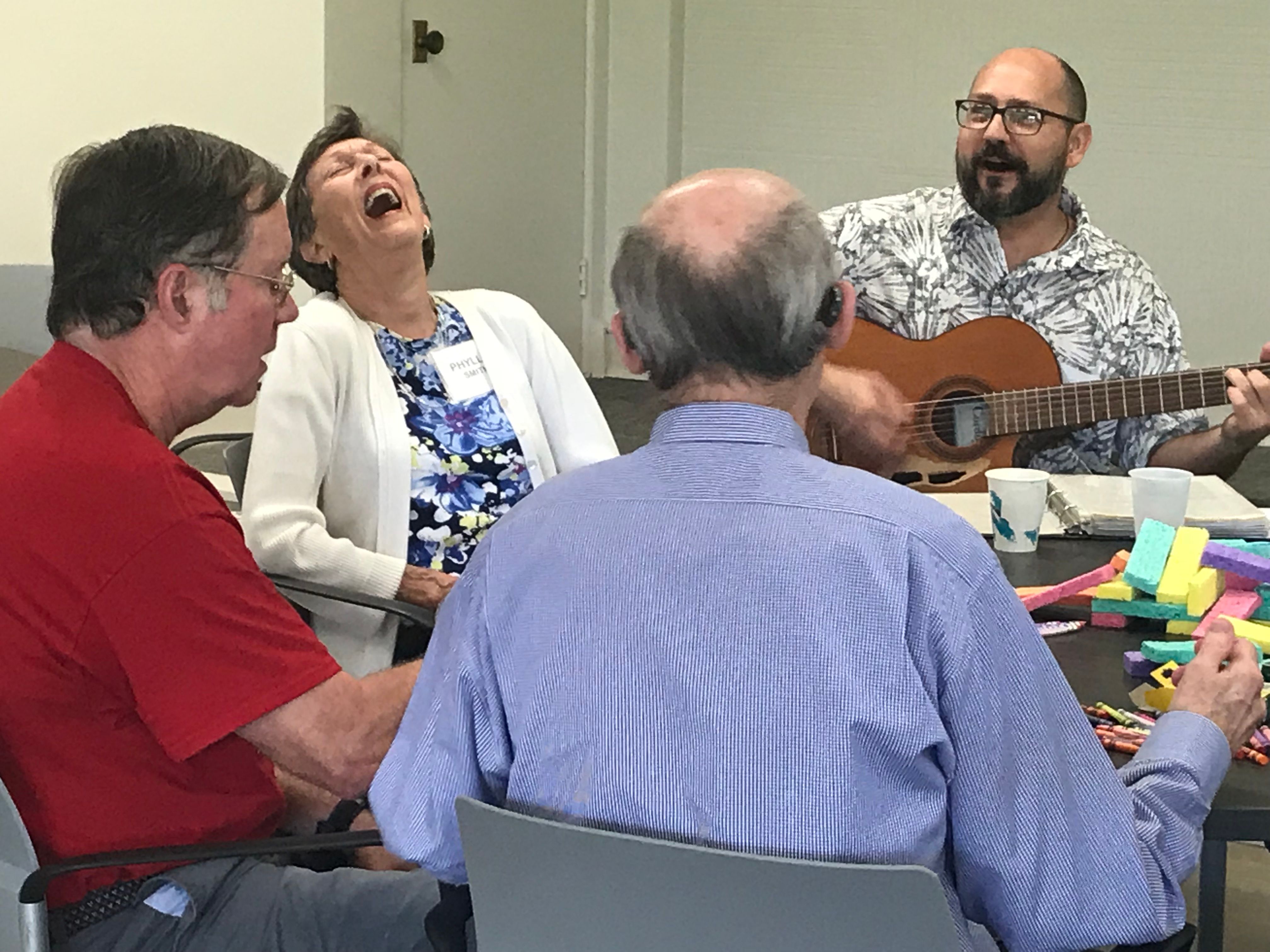 Guests arrive and settle themselves at a table to chat, work puzzles, listen to music, and color the latest coloring pages. They visit with other guests and volunteers over a cup of coffee or a glass of lemonade and snacks. Henry plays his guitar, which leads to a hearty sing-along of old hymns, Hank Williams, Elvis, and Peter, Paul and Mary. Laughter erupts when we hit some old Hee Haw songs. Toby, the dog, works his way around the group for some petting and puppy kisses.
After a while, guests and volunteers move chairs into a circle for some deep breathing and chair yoga. We try to be earnest, but inevitably giggles slip out. We finish with a daily devotional reading and "I Come to the Garden Alone." Time for lunch!
After a delicious meal prepared by Kim and her crew, we crank up a boisterous game of balloon volleyball. Then we move our chairs to the art table and spend some time creating today's watercolor project. Guests and volunteers share laughs over the whiteboard word game and the latest corny jokes. We finish the day with a rousing Bingo game. As pick-up time nears, we gather in a circle, hold hands, and say our closing blessing together. Just another happy day at Recess!
Recess is a ministry designed to give adults with dementia a time of socialization and physical, mental, and spiritual stimulation, while giving their care partners a break from continuous care. Participants attend from 10 am- 2 pm on Tuesdays and Thursdays with volunteers who provide companionship and assist with lunch and activities. The atmosphere is part lunch club and part summer camp. Here's what care partners are saying about Recess:
"[T]he Recess Program [is] having such a positive impact on my mother's life!  …  She tells me how much she loves being at the church with her friends and that makes me happier than I can possibly express. She may be short on details of the day's activities but she knows she had fun and was with friends. You are making a tremendous difference in her life."
"I'm very thankful for what you are doing and the environment that y'all create to help [Mom] and others. It makes her feel so normal and happy. It taps into the things in her that are still working the way she wants them to!"
Want to know more? Contact Recess Director Pat Flowers at (205) 933-3723 or pflowers@ipc-usa.org.