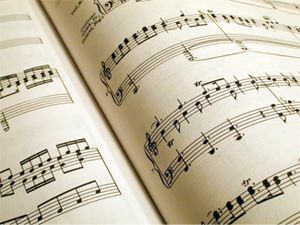 "Gloria in Excelsis Deo." The Latin text translates into "Glory in the highest to God." Those are the first lines in Poulenc's Gloria. The composer wrote it for a soprano solo, orchestra and chorus using a Gloria text dating back to 2nd Century Greece. This Sunday, you will be able to hear Poulenc's celebrated work sung by the IPC Choir accompanied by musicians from the Alabama Symphony Orchestra at 4 pm. The Christmas Concert is always beautiful. This one is quite a production that even involves lifting instruments over the balcony into the choir loft. The concert is free as a gift to community. Please come.
The concert will be Music & Fine Arts executive assistant Barb Fillmer's final music event. After 39-years working here at IPC, Barb retires on December 18. Barb has worked with three directors of Music & Fine Arts. She has helped organize, support and publicize Religious Arts Festivals, Evensong series, November Organ Recital Series, Christmas Concerts and other Music & Fine Arts events. Barb used to edit the Window and the Update. She now creates our Sunday morning worship, memorial service and wedding bulletins. Her knowledge of music and publication design is extensive. We will miss her joyful laugh. But we wish her well on retirement from a job well done. Thank you, Barb!
This Sunday, we will also welcome IPC member and storyteller Dolores Hydock back as a special Sunday school presenter from 10-10:50 am. If you have ever dreamed of having the perfect Christmas, you will want to hear Delores share two true stories about the search for that perfect day and the surprising discoveries made about the true spirit of Christmas. All are welcome.
Also, a reminder that, following the 11:00 am service, those who want to will gather in Room 305-306 for a fun Skype conversation with former Interim Pastor, Morgan Roberts. You will recall that he has a new book out titled A Beautiful View: A Friendlier Christianity as a Way of Life. 
Finally, a big thank you to everyone who once again made the Holiday House Tour a success. Whether you served as a chair, helped plan, decorated, baked, drove a shuttle, sold or purchased tickets or assisted with traffic, we couldn't have done it without you. The weather was miserable. I assisted with parking at the Schleusner house and can attest to how cold and wet it was out there. But the outpouring of support for the tour and the IPC ministries benefiting from it was uplifting and heartwarming. Next year will be the 70th annual tour. We hope you will help make it an even bigger success!
See you Sunday,
Bill