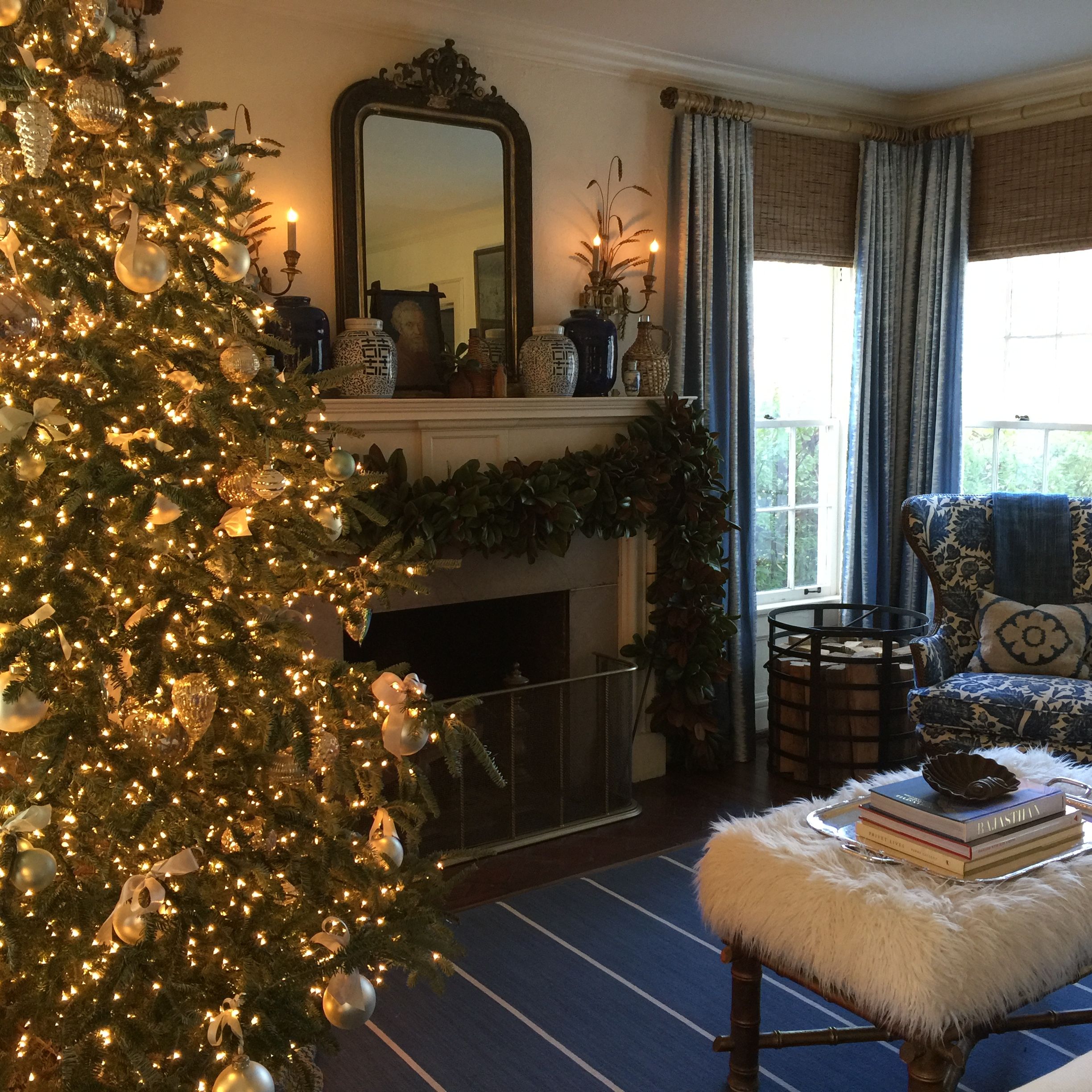 You're invited inside the homes of Mr. and Mrs. Tom Adams, Dr. Tommy Bice and Mr. Ken Northrup, Mr. T. Chris Carter and Mr. John Dorsett, Mr. and Mrs. Joseph Hirsch, and Dr. and Mrs. Raleigh Kent Saturday, December 9 from 10 am- 4 pm and Sunday, December 10 from 1- 5 pm. They're hanging their final Christmas decorations and preparing to open their doors to welcome you, your family and friends on this 68th annual Holiday House Tour.
The Home of Mr. and Mrs. Tom Adams
Inspiration for the Adams' Georgian home on Old Leeds Road came from one of the original owner's home state of Virginia. Built by attorney Eason Balch and his wife, Betsy, in 1984, the house is filled with bookcases, 20 foot ceilings and high windows and doors spanning the back of the house to overlook the terrace and pool. Light fills the home and helps showcase artwork and family antiques collected by current owners Tom and Paula Adams. The home's classical architecture comes alive with a transitional decorating style bringing together the art, antiques and contemporary furnishings.
The Homes of Dr. Tommy Bice and Mr. Ken Northrup & Mr. T. Chris Carter and Mr. John Dorsett
Built in 1981 with its signature Mansard roof, Hanover Place provides its residents with panoramic views of the Birmingham skyline to the north, Sloss Furnace and the Airport to the east, Red Mountain and Vulcan to the south and Regions and historic Legion Field to the west as it towers over the tree-lined Highland Park neighborhood. Limited to sixteen 2,400 square foot units, residents who desire the comfort and convenience of upscale, urban living without sacrificing space call Hanover Place home.
Step in the home of Ken Northrup and Tommy Bice for spectacular city views, a recently renovated kitchen and an intricate ceramic nativity set carved by Ken's grandmother. It's a true treasure!
Everything old is new again inside the home of Chris Carter and John Dorsett. Carter downsized from a larger home to this condo, which contains a lifelong, eclectic collection of his favorite things.
The Home of Mr. and Mrs. Joseph Hirsch
The Hirsch home is not your typical Mountain Brook home. Built just two years ago by a young entrepreneur and his wife -- an artist who once worked for a well-known L.A. designer -- the Hirsch family needed a bigger home that could balance their entrepreneurial and artistic spirit with the demands of an expanding family. The Hirsch home reflects the couple's love of and talent for mixing modern and traditional design by creatively combining brick and cedar with the more modern elements of steel and glass.
The Home of Dr. and Mrs. Raleigh Kent
The Kent's original Robert Jemison 1929 Mountain Brook Estates home was built in the American Tudor style using brick, stone timber and stucco. The graduated slate roof creates an optical illusion of a steeper angle. The home has undergone several renovations by the Kents since 1990 including a master bath, paneled den assembled on site and enlarged kitchen/den with added screen porch. Wood carvings, reclaimed beams, chandeliers and a 16th century Tudor mantel from England obtained from Richard's clothing store blend in with the owners' collection of Jacobean, Queen Anne and French provincial walnut furniture. Interesting items include a collection of tea caddies, a wooden carving after the Black plague inscribed with "God's providence is thine inheritance," an oak Tudor Rose roof boss and a Jacobean tester bed from 1687.
Tickets can be purchased for $30 online at www.ipc-usa.org or at the church reception desk. All proceeds from ticket sales will benefit Independent Presbyterian Church ministries including the STAIR tutoring program, Children's Fresh Air Farm's Summer Learning Program and The Open Door's GED, basic literacy and English as a Second Language programs.