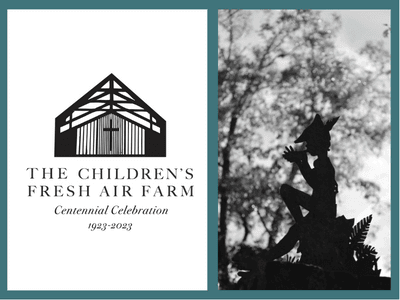 Make plans to attend our final Centennial celebration at the Children's Fresh Air Farm on October 28 and 29. This two-day event is family-friendly with activities planned on Saturday and Sunday. Please spread the word to your IPC family and friends, as this is a special weekend commemorating IPC's ministry on the mountain. You wouldn't want to miss it!
Saturday, October 28 |11 am - 2 pm
Staff and Camper Reunion
Former staff members and campers are invited to join us at the Farm for a celebration lunch served in the dining hall. Additionally, we have arranged for archival photo displays in the Main House, and a chance for everyone to explore the camp together. Please note that this event is exclusive to past staff and camp attendees.
Sunday, October 29 | 3-6 pm
Centennial Celebration and Fall Festival
All are invited to a churchwide event at the Farm featuring live music by the Table worship band, fun games for kids, a hayride, and a dedication ceremony to celebrate 100 more years of ministry at the Farm ministry. Dinner will be served at 5 pm. While you are there, you can also view the Farm archives and photos which will be displayed in the Main House. In addition, the Clinton Taylor Aquatic Center, named in memory of George and Honey Taylor's son Clinton, will be open for touring. Don't miss out on the fun-filled event! Registration opens soon.
For more information on either event, contact Margaret Cobbs, Children's Fresh Air Farm Committee Chair.