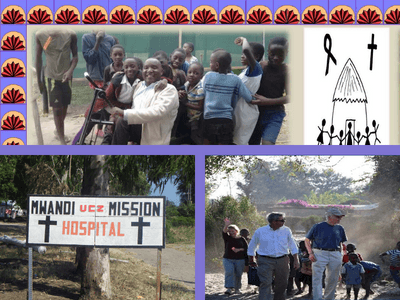 From our earliest days, IPC has understood that a part of our call as disciples of Jesus Christ is to share the gospel of Christ in word and in deed, and to witness to God's transforming love in Jesus Christ within our own church walls, in the greater Birmingham community, and across the world. Building relationships and developing partnerships around the world have been key to IPC's commitment to join God in the world and to witness what the Holy Spirit is doing for the transformation of the world.
Ours is an incarnational faith; we follow an incarnational Lord, one who "became flesh and lived among us" (John 1). We are called by Christ to embody the same kind of love, justice, peace, healing, and hope he showed and taught his disciples long ago.
And so finally, after a three-year delay, a team of twelve departs next week for Mwandi, Zambia! Standing on the Great Commandment of Christ to love God and to love our neighbors (Matthew 22), we 12 will follow the Great Commission of our Lord to "Go forth and share the Gospel" (Matthew 28) alongside our longtime mission partners and friends in Christ at Mwandi Mission. We are thrilled to represent IPC as we join in service, learning, and fellowship with our beloved mission partners of 30+ years.
While at Mwandi, our medical team members will advise and assist at Mwandi Hospital, while some of us will paint and update the Preschool. The teachers among us will offer curriculum updates, while others will experience the new Sheltered Workshop for vulnerable adults to learn skills. We will experience choir practice and worship, and our team will serve lunch at the Orphans and Vulnerable Children's Center and share Bible stories and songs. The newbies among us look forward to meeting Ida and Keith Waddell (long-term missionaries with the Church of Scotland), Lawrence Kamba (our Coordinator), and hopefully, Chief Yeta, too.
Our Mwandi Mission Team members are: Phil Collins, Foster Cook, Susan Eiland, Debbie and Doc Feagin, Rowena Macnab, Georgia Miller, Larry Moore, Jean Shanks, Carol Smith, Tommy Thomson (Co-Leader), and Rev. Melissa Self Patrick (Co-Leader/Staff).
We covet your prayers and will also pray for you all while we are away. We are excited to learn, grow, and serve alongside friends old and new, and we will look forward to sharing all about our journey soon!