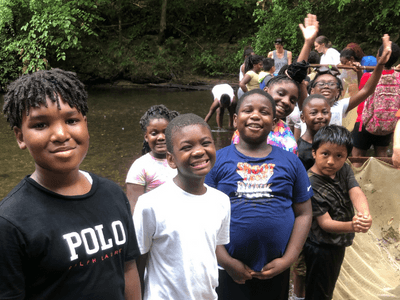 At the end of 2021, Session set aside significant funds to support Community Ministries' priorities and special needs. Session soon after established the Community Ministries Discernment Committee to investigate and recommend the best use of these funds. It has been my honor to chair this committee of Session comprised of clerical, Community Ministries, and congregational and Session leaders including Susie Abbott, Lydia Cheney, Foster Cook, Anna Hartzog, Kevin Long, Melissa Patrick, Kara Lindstrom Scholl, Ivy Spencer, Emily Vanlandingham, and David Woodruff. Kathryn Miree and Penney Hartline also both provided valuable leadership, insight, and input.
The Discernment Committee embarked on a process of prayer, study of scripture, and research to better understand the unique needs in our community during these challenging economic and societal times. We contemplated the early years of IPC and our legacy of ministry to those in need and service to our community. We attempted to evaluate the successes and weaknesses of our more recent IPC Community Ministries Committee and the legacy of Felix Yarboro and the Beesons. Finally, we tried to identify and assess the most extreme challenges wrought by COVID-19. At the end of this search, we unanimously chose to use our designated funds to best meet the needs of Birmingham children in need. Fitting, we thought, as IPC recognizes the Centennial Celebration of the founding of the Children's Fresh Air Farm, begun in 1923 "to address the greatest social need in Birmingham at that time."
We next defined how we could evaluate potential opportunities and agreed a solid plan was critical but not enough. We committed to prioritizing those proposals which would create greater opportunities for IPC volunteer engagement, could lead to transformational, sustainable impacts, and would be efficient and likely to succeed. We canvased our community. Members of the committee met and/or spoke with our own IPC Foundation's leaders and with Birmingham's leading community organizations, churches, and foundations. In the end, we evaluated over 20 specific programs or opportunities for contribution.
As we evaluated options, we began to recognize the unique need and opportunity to contribute to a specific Birmingham community in need, the North Avondale and Woodlawn communities including our community partner school, Hayes K-8. As many of you know, the problems in this community continue to grow larger. Hayes is struggling with a failing status. Children at Hayes are experiencing increasing learning challenges and social service gaps. The last few years have made the challenges worse. IPC also has committed to the community with our successful Summer Learning Program (SLP) and our Social Services ministry already engaged with Hayes K-8 students. The Discernment Committee grew to believe that there was already a foundation for an even deeper impact on the children, school, and community's history.
We had in-depth conversations and meetings with educational professionals and leaders in and around Hayes K-8 to understand what the opportunities were to make larger more transformational impacts on the children in this area. We met with many who were already engaged in support of the Hayes K-8 turnaround, in addition to IPC's own highly successful Dr. Tommy Bice, founder of i3 Academy who is heavily engaged with the North Avondale and Woodlawn communities.
After almost 12 months of work, the Discernment Committee unanimously confirmed our recommendations, which were approved by Session at its November meeting. We subsequently presented this plan to the congregation in December 2022 during Sunday school.
The Committee recommended the funding of:
A full-time position to support students and families of Hayes K-8 and the SLP year-round with critical needs affecting academic success including attendance, housing, transportation, social, and emotional support.
Several part-time positions and an additional 2nd-grade class for the SLP. The funded positions will help increase the effectiveness and success of academic, social, and emotional learning and include a licensed counselor, an academic interventionist, and paid student interns allowing SLP graduates and IPC youth the opportunity to help with the SLP and develop their job skills and employment experiences.
Specific critical but underfunded programs and services administered by IPC's Community Ministries Committee and staff to help Birmingham parents and children in need to access better job training, mental health counseling support, and safer transportation to school, especially for the students at Hayes K-8, who do not qualify for school-provided transportation nor have good options of their own.
A full-time position, initially at i3Academy, to lead the implementation of Mobility Mentoring, a successful, national model of EmPath, "Bridge to Self-Sufficiency." Several willing i3 parents will be paired with a trained volunteer mentor, who will meet with them monthly to establish a multi-year plan with goals and objectives to further themselves beyond generational poverty.