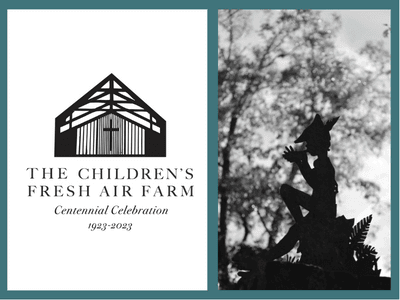 Since 1923, children in Birmingham have been able to retreat to the Children's Fresh Air Farm in Bluff Park to experience recreation time outdoors, nourishing food, and fellowship with caring teachers and friends. You may have read in Henry Edmonds' A Parson's Notebook about a train ride with Robert Meyer, an old friend and owner of a hotel chain.
Edmonds asked Meyer if he would like to "spend some money in a way that will leave a good taste in your mouth as long as you live." Meyer agreed to furnish money and land to start the Fresh Air Farm, if Edmonds would do the footwork of starting the camp. Edmonds asked the Women's Committee of the church to do the important work of starting a summer camp for undernourished children, and they accepted the challenge.
One hundred years later, IPC is still welcoming campers each summer who are able to make huge academic gains in their reading and math skills, thanks to the dedicated teachers and volunteer tutors that make the Summer Learning Program possible. Children ages second through eighth grade are also offered a place of safety and refuge from some truly heartbreaking family and economic situations.
IPC families also enjoy the week of Bibletimes Marketplace, where they live in community as tribes of Israel under makeshift tents, bake bread, learn scripture, and splash in the pool. Many of us feel deeply attached to these 36 acres in Bluff Park, because the Farm represents fun, spiritual growth, and happy times with our fellow church members. It is a truly special place in the life of our church and a lasting, tangible realization of Henry Edmonds' vision of spreading the gospel by working for the local community
All of this deserves celebration! We have a grand schedule of events planned for 2023, the Farm's centennial year, to both learn about the Farm's history and to celebrate its ongoing mission.
Exciting property renovations are underway, beginning with a beautiful garden reconstruction that will create a more accessible and safe space for enjoying shade under a grove of trees. A huge, thick hedge of invasive privet has been removed and will be replaced by tea olives.
Plans are in the works to completely renovate the 1950s-era cinder block pool house adding accessible restrooms, which will be a big property improvement for members of the community who enjoy the playground and Farm as well as for IPC events. Thank you to Allen Sydnor for your guidance in these property renovations, you have provided a great depth of knowledge of the Farm property and how it has evolved over the years.
In January, we will welcome a Sunday series of speakers and events to celebrate the last 100 years. Thank you to Centennial Committee Chair members Anna Kate Donovan and Aly Butts for planning this stellar lineup!
Here is our schedule:
Jan. 8: Linda Nelson will speak about Henry Edmonds and early Farm history
Jan. 15: A Children's Fresh Air Farm Open House will be held in Highland Hall Assembly Room, highlighting social services provided by the Farm over the years, including Dr. Bob Castleberry and newly digitized photo archives
Jan. 22: Dale Head, Chris Yarboro, and Jonathan Yarboro will share their years of experiences
Jan. 29: Jim Wooten, Gini Williams, and Catherine Goudreau: How the Summer Learning program came to be, where we are now, and where we are headed.
We are so excited to honor the past and celebrate the thousands of lives this ministry has impacted over the last 100 years. Please make plans to attend these events in Highland Hall in January, we promise you will feel inspired and engaged with your church.
Mark your 2023 calendar! Our final celebration will be next fall, on October 29, 2023, at the Children's Fresh Air Farm. This will be a large family-friendly event with activities scheduled throughout the weekend. Start spreading the word to your extended families who hold the Farm in their hearts, they won't want to miss this chance to head back up the mountain!