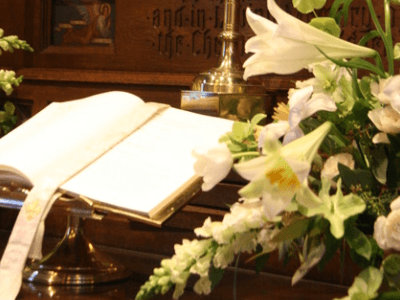 It is hard to believe that Lent is upon us. I hope many of you were able to take part in our wonderful Ash Wednesday as we began this Lenten journey. Throughout the season of Lent, I will be preaching on the theme, "From Death to Life," as we look at passages in the Bible where God took seemingly dead-end situations and brought new life out of them. This week, we look at the fascinating story of Shadrach, Meshach, and Abednego in the fiery furnace. I hope that you will all come out and join us in person for worship as we begin this important season in the life of the church. Also, after the 11am service, I hope you will stick around for some fellowship and refreshments as we do Cookies in the Courtyard throughout Lent.
Additionally, starting next Wednesday, we will be doing thirty-minute Lenten Chapel services at noon followed by a light lunch in the Great Hall. It's a wonderful way to refocus mid-week on what this season is all about. If you plan to stay for lunch, please register for your meal.
I hope many of you saw our own Susan Clayton as the lead story on CBS 42's evening news yesterday as she was interviewed about IPC's connection and support of our mission partners in Ukraine. Read about it here. I also hope that all of us are praying for the Ukrainian people, trusting that our God will somehow bring new life out of this seemingly dead-end situation. If you would like to send financial aid, you can make an online donation (type Ukraine Aid in the "Gift to fund not listed" box).