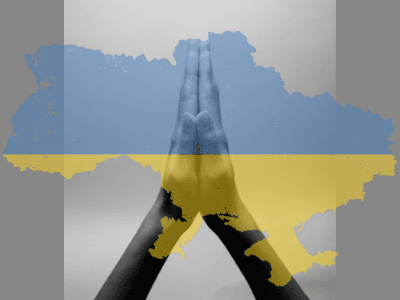 I'm sure all of us have been keeping up with the horrors taking place in Ukraine as the Russians continue to invade and cause unspeakable destruction and loss of life. A number of you have asked how can we as Christians help? 
As followers of Jesus, we are called to care for those in need in his name, to feed the hungry, clothe the naked, welcome the refugee, care for the broken. For in doing so, we are showing our love for Jesus himself (Matthew 25:31-46). Right now, there is great need in Ukraine. 
Fortunately, IPC already has a relationship with mission partners in Ukraine with whom we have been in regular contact. As Rev. Susan Clayton mentioned in her Feb. 27 sermon, they are working hard to provide food, shelter, and transportation to refugees. However, their resources are limited. In an effort to help sustain them, IPC will be sending relief funds directly to our mission partners. We welcome any donations toward this effort. I hope that we can make a real difference in the lives of those who are suffering and grieving through our generosity.
See below for information about our long-standing relationships in Ukraine and how you can make a donation to help those in need. 
IPC's Mission Partnership in Ukraine
IPC's long-standing mission partnership with Ukraine extends nearly twenty years working alongside Pastor Fred and The Church of the Risen Christ in Vinnytsya as well as the organization His Kids Too in the far eastern part of Ukraine. Since IPC members first visited the country in 2002, teams have worked over the years in orphanages, with children and youth at The Church of the Risen Christ, spent time with the church's rehabilitation ministries, worshiped, and got to know a great deal about the life and culture of Ukraine. The IPC Foundation has sent several grants to both Church of the Risen Christ and His Kids Too to support their ministries. 
Today, IPC is supporting our partners through your generous giving as well as other organizations providing direct humanitarian relief to those affected by the Ukraine crisis. Additionally, Rev. Susan Clayton remains in close contact with Pastor Fred, and he has been in constant contact throughout the current crisis. The Church of The Risen Christ is providing food, shelter, and other assistance to refugees, assisting those who cannot flee the country, and providing assistance to the hospital and special police forces. Their congregation made up of Ukrainians, Russians, and Belarusians is seeking to model forgiveness, reconciliation, and hope by maintaining their unity in the bonds of Christ and working together in ministries of relief and compassion during this very dangerous time.
How You Can Contribute
Donations can be made online (please type Ukraine Aid in the "Gift to fund not listed" box) or mailed to the church (Attention: Beth Grauel). We appreciate your contributions that enable us to help our partners in Ukraine.  
Questions: Please contact Patricia Harper at (205) 933-3715.
A Prayer for the People of Ukraine 
Written by Rebecca Abel Lamar from Government Street Presbyterian Church in Mobile—shared with the presbytery by Sue Westfall, General Presbyter of the Presbytery of Sheppards and Lapsley
(Based on Psalm 27)

The Lord is my light and my salvation; whom shall I fear?
The Lord is the stronghold of my life; of whom shall I be afraid?

We are afraid, Lord.
Afraid for the people of Ukraine, afraid of what this invasion means for our world.
We desire security, and we seek your light.
May it shine for the Ukrainians in ways we cannot see.
May your protection blanket them in ways we cannot know. 

Though an army encamp against me, my heart shall not fear;
though war rise up against me, yet I will be confident.

Cure the warring madness of your children, O God.
As armies make war, give us confidence in your goodness.
May our faith be the assurance of things hoped for.
May we hold fast to our convictions of divine peace that is yet unseen.

I believe that I shall see the goodness of the Lord in the land of the living.
Wait for the Lord; be strong, and let your heart take courage; wait for the Lord!

Save us, Lord, from weak resignation.
And save your children in Ukraine.
Grant them strength and courage—especially those who are injured, grieving the death of loved ones, or homeless.
Give wisdom to the leaders of the world and show them a path to peace.
Open our hearts to hold your children in your light as we pray in Christ's name without ceasing.
Amen.