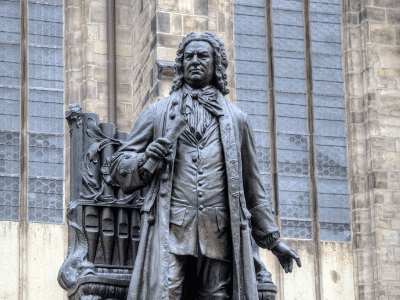 The 51st Annual Religious Arts Festival at IPC is coming up beginning Sunday, Jan. 30, with events running through the following Sunday, Feb. 6. This year we are returning to an in-person format both in the church buildings and at the Clubhouse on Highland, and we will focus on the rich cultural traditions of 18th-century Germany and Johann Sebastian Bach in the areas of music, food, and literature.
Here is a quick synopsis of what to expect: 
Beginning on Sunday, Jan. 30, we will begin our exploration with the organ music of Bach played by many local organists in a come-and-go recital all afternoon—a true "Bach-a-thon" event beginning at 1 pm in the Sanctuary and ending at 5 pm. Visit ipcmusic.org for the schedule of performances once available. 
On the evening of Monday, Jan. 31, Dr. Jennifer Geer from the University of Louisiana at Lafayette will present a lecture in the Great Hall on "Cinderella, Rapunzel, and the Brothers Grimm." Discover more about the men who became the Brothers Grimm, and how they reworked Cinderella and Rapunzel's stories to appeal to a mostly middle-class and Christian German audience. These are things we didn't learn as children.
At Clubhouse on Highland, Tuesday, Feb. 1, will feature an olfactory and gustatory test, as our in-house sommelier Janet Ort guides us through the Bavarian region with a pairing of wine and food.  Live classical music will crown the evening.  Prost! Reservations are now closed.
We'll continue our pursuit of the culinary tradition of Germany as the Annual Religious Arts Festival Banquet turns into an Oktoberfest in the Great Hall on Thursday, Feb. 3. Don your lederhosen and join us for an evening of great food, colorful décor, and a performance by the world-class, award-winning jazz accordionist Cory "C Pez" Pesaturo. Please make your reservation by Jan. 30.
We will continue the tradition of "Early Music on Fridays" on Friday, Feb. 4, with a return performance of the instrumental ensemble Chatham Baroque from Pittsburgh. Performing on instruments replicated from the 18th century, they will present the stunning Gloria by George Frideric Handel, trio sonatas by Handel and Dietrich Buxtehude, the rousing Rejoice Greatly from Handel's Messiah, and a set of chorales by Johann Sebastian Bach arranged by Chatham Baroque. 
A return to the organ music of Bach will close the Festival on Sunday, Feb. 6, with a concert by the German legend Wolfgang Rubsam. Beginning in childhood, Mr. Rubsam was trained in the music of this tradition and will bring to us a rarely heard wealth of knowledge and experience on both the organ and harpsichord. 
Watch Events Online
Events held in the sanctuary will be available via livestream. 
Additional Information
Please help to continue this important tradition of the Religious Arts Festival and join us for all of the wonderful events that our church offers to the congregation and the people of the city of Birmingham. Please call the Music Office at 205-933-3700 for further information. Learn more about the events and make available reservations at ipcmusic.org.