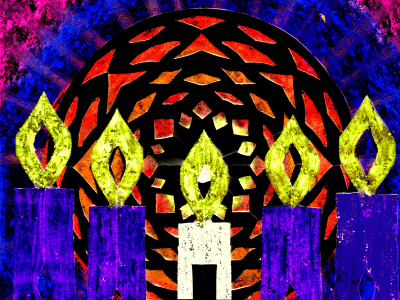 SCRIPTURE
First Reading: Jeremiah 33:14-16 (NIV)
14 "'The days are coming,' declares the Lord, 'when I will fulfill the good promise I made to the people of Israel and Judah.
15 "'In those days and at that time I will make a righteous Branch sprout from David's line; he will do what is just and right in the land.
16 In those days Judah will be saved and Jerusalem will live in safety. This is the name by which it[c] will be called:The Lord Our Righteous Savior.
Gospel Reading: Luke 21:25-36 (NIV)
25 "There will be signs in the sun, moon and stars. On the earth, nations will be in anguish and perplexity at the roaring and tossing of the sea. 26 People will faint from terror, apprehensive of what is coming on the world, for the heavenly bodies will be shaken.
27 At that time they will see the Son of Man coming in a cloud with power and great glory.
28 When these things begin to take place, stand up and lift up your heads, because your redemption is drawing near."
29 He told them this parable: "Look at the fig tree and all the trees.
30 When they sprout leaves, you can see for yourselves and know that summer is near.
31 Even so, when you see these things happening, you know that the kingdom of God is near.
32 "Truly I tell you, this generation will certainly not pass away until all these things have happened.
33 Heaven and earth will pass away, but my words will never pass away.
34 "Be careful, or your hearts will be weighed down with carousing, drunkenness and the anxieties of life, and that day will close on you suddenly like a trap. 35 For it will come on all those who live on the face of the whole earth. 36 Be always on the watch, and pray that you may be able to escape all that is about to happen, and that you may be able to stand before the Son of Man."
DEVOTION
Growing up my only awareness of Advent was the name of the Episcopal church in downtown Birmingham. Lent was the past tense of lend. Today, Advent, Lent, and all liturgical seasons and traditions provide a path for me to follow in this labyrinth of my faith pilgrimage. Advent commemorates Israel's wait for His birth and the coming of The Kingdom of God. Advent also reminds us of how we wait for His return and the fulfillment of His Kingdom.
On this first Sunday in Advent, both scripture readings predict the coming of The Messiah, Jesus Christ. In the Gospel of Luke, Jesus foretells of the Savior's return. He tells his disciples, "They will see the Son of Man coming in a cloud with power and great glory." Through the prophet Jeremiah, God reveals the incarnate coming of the Messiah to Israel. God says, "I will make a righteous Branch sprout from David's line."
Growing up in the sixties our family would visit my grandparents on Sand Mountain. We traveled up highway 75 in our 1960 Chevrolet Kingswood nine passenger station wagon. We would stop along the way at a curb market where my parents would buy a basket of tomatoes and I would get a Grapico. We would ride past barn after barn with rooftops painted to say "See Rock City" or "Jesus Saves." Even then I knew "Jesus Saves" was a proclamation by Sand Mountain "Holy rollers." As for Rock City, I later got to see it while at Camp Laney one summer
Looking back Rock City was a letdown but those "Holy rollers" were right. Jesus saves us from our sins. He saves us from ourselves. Even when we defy Him, He forgives us. Once on the right path we see Him waiting for us. He is here. Christ provides the strength to carry on with His peace to persevere. It is then we get a glimpse of his Kingdom. Emanuel has come. God is with us.
Charles Wesley's Advent hymn "Come Thou Long Expected Jesus" proclaims the Good News of God with us, of Emanuel, of our Savior Jesus Christ, the Messiah:
"Born thy people to deliver,
born a child and yet a King,
born to reign in us forever,
now thy gracious kingdom bring.
By thine own eternal spirit
rule in all our hearts alone;
by thine all sufficient merit,
raise us to thy glorious throne."
IPC'S ADVENT DEVOTIONAL GUIDE
Please subscribe to be emailed daily Advent devotions incorporating scripture, prayers, and reflections. Printed copies of the devotional will be available soon in various areas around the church.