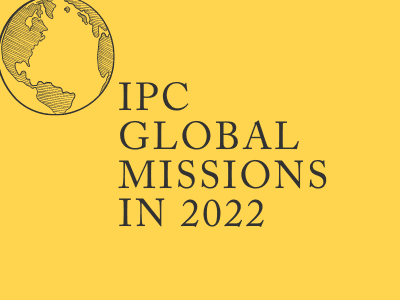 "Love the Lord your God with all your heart and with all your soul and with all your mind and with all your strength.' The second is this: 'Love your neighbor as yourself.' There is no commandment greater than these." ~Mark 12:30-31, NIV
In June 2015, my husband, Barry, our son, Joe, and I joined nine others to travel to Mwandi, Zambia to continue our church's longstanding tradition in that community of serving others, helping, providing, and comforting where needed, and sharing the love of Jesus Christ.
We spent time daily helping to feed, play with and educate the young ones at the Orphans' and Vulnerable Children's Center. We organized stockpiled medical supplies in the hospital, painted a neglected residence for incoming doctors to live in, visited with the elderly residents of a primitive nursing home, taught children's Sunday school, and worshipped (for two-and-a-half hours!) on Sunday morning with fellow Christians in the community.
The conversations and fellowship, as well as the relationships built, strengthened our connections with the people of Mwandi, as IPC has done for the past few decades. Our work was not limited to that week, as the needs we learned about were addressed in the months following our time there and helped shape the future mission journeys for the following years. I encourage anyone who is interested in participating in these life-changing and spiritually significant journeys to talk to me or someone listed below about our upcoming journeys. It will be an experience you'll never forget.      
JOURNEYS WE HOPE TO TAKE IN 2022
Chiapas, Mexico: June 4-11, 2022
This newer global mission of IPC is helping plant churches in Chiapas, Mexico. The team works with missionaries Salvador and Irma de la Torre on construction and relationship-building projects.
Mwandi, Zambia: June 18-30, 2022
Leader: Tommy Thomson
This mission is comprised of a United Church of Zambia congregation, a hospital, school, Orphan and Vulnerable Children Center, and a home for elderly orphans. The team completes a maintenance project and works with the school, church, and orphan center.
Kigali, Rwanda: (maybe mid-July)             
Leaders: Betsy Holloway & Susan Dulin
In 2016, IPC formed a partnership with Anglican Bishop Laurent Mbanda and his ministries serving the people of Kigali. The team visits several churches and ministries in the area that are working for peace and development.
DETAILS TO APPLY
Applications are available online and in the Community Ministries office. 
For Mwandi and Chiapas, as well as Rwanda, we are asking participants to complete initial applications by October 31, 2021 (no monetary deposit at that point).
Airfare deposits by end of Dec. 2021 (paid to IPC).
QUESTIONS
Rev. Melissa Self Patrick, Director of Community Ministries & Outreach
Dr. Tommy Thomson, Chairperson, Global Mission Team