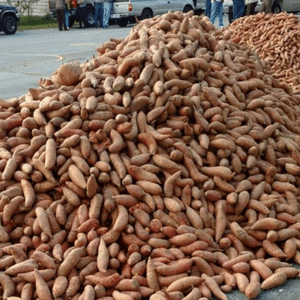 When you reap the harvest of your land, do not reap to the very edges of your field or gather the gleanings of your harvest. Leave them for the poor and for the foreigner residing among you. I am the Lord your God. ~ Leviticus 23:22
Our congregation has a unique opportunity to join hands and hearts and sack one-half of an 18-wheeler load of sweet potatoes, which have been gleaned from local farmers' fields, for our neighbors who struggle with food insecurity. Join us on Sunday, October 17, from 3-5 pm on the lawn behind Highland Hall. Everyone (ages 5+) is invited to join in this fun time of fellowship and meaningful mission work!
"After spending much of 2020 and 2021 separated from our church family, I'm excited about this safe way for IPC members to gather together and participate in an outdoor service activity that will directly benefit the community.  Families, Sunday school classes, and ministries working side-by-side in an effort to address food insecurity in Birmingham will be a day of rewarding fellowship for everyone involved," says Anna Hartzog, Bridges Class Leader, Deacon, and Co-Chair of IPC's 2021 Crop Drop.
The Society of St. Andrews (SoSA) Alabama Gleaning Network is providing this opportunity for us to help in their produce rescue and distribution program.  Our work will help put fresh fruits and vegetables (otherwise at risk of going to landfills) on the tables of our neighbors who struggle to feed their families. Last year SoSA Alabama rescued nearly 2.7 million pounds of food and then distributed in the form of more than 8 million servings of fresh produce, grains, and dairy on the tables of hungry Alabamians.
"I'm always looking for service opportunities for my family that actually make an impact. I'm glad to see IPC exploring new avenues for service and new ways to get people of all ages involved with the ministries of our church.  I hope everyone will make plans to participate on October 17," says Kate Mather, Crossroads Class, Deacon, and 2021 Crop Drop Co-Chair, sharing her excitement about being involved with IPC's Crop Drop.
Sign up now! 
Crop Drop early registration deadline has passed, but we are continuing to take registrations. Click here to sign up as a volunteer and complete the required waiver.
Questions
If you have questions or need more information about the event, you can contact me anytime.