Virtual Book Review: Gather at the Table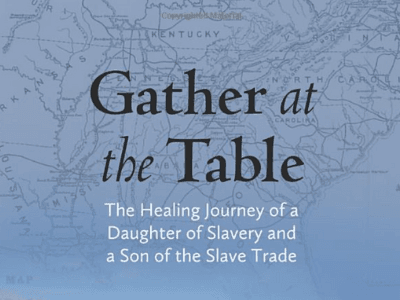 Please join us for the Presbytery of Sheppards and Lapsley's virtual book review on Gather at the Table by Thomas DeWolf and Sharon Morgan. The book chronicles the journey of DeWolf & Morgan over a three-year period where the pair travels thousands of miles, both oversea and through 27 states, visiting ancestral towns, courthouses, cemeteries, plantations, antebellum mansions, and historic sites. They spent time with one another's families and friends and engaged in deep conversation about how the lingering trauma of slavery shaped their lives. The deadline to register is Tuesday, July 12, 2022.
Join the Book Review
The Anti-Racism Committee of the Presbytery will conduct four book review sessions via Zoom beginning Thursday, July 14 at 6 pm. The book is divided into 4 sections with a section being discussed at each meeting scheduled on July 14, July 28, Aug. 11, and Aug. 25. Click the links to register and join the Zoom meeting.