Community Ministries Series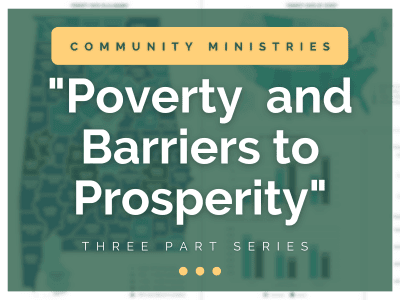 Join us for a three-part series: "Poverty and Barriers to Prosperity" continuing on Wednesday, Sept. 27, 5:30 - 7:15 pm in Great Hall 1. Manisha Mishra, Deputy Director of Alabama Possible, will lead us in discussing their recent Barriers to Prosperity: Data Sheet 2023.
Michelle Farley, Executive Director of One Roof, will conclude the series on Wednesday, Oct. 25, 5:30 - 7:15 pm in Great Hall 1. She will lead a more focused discussion on efforts to equip and empower our community to prevent and end homelessness through advocacy, education, and coordination of services and will be joined by Minister Debra Blaylock, Faith Chapel Christian Center.
IPC Wednesday Night Dinner is available for these programs. Please order by Tuesday at noon of each week.