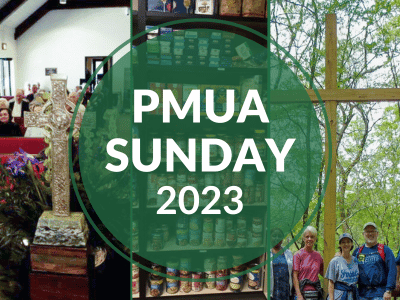 Each summer, we come together as a church to support Presbyterian Ministries United Appeal (PMUA). But did you know? Your gift can be made yearlong, and it will be felt well beyond Alabama's hottest months. Contributions to PMUA provide funding for Kirkwood by the River's Life Care Fund, the Living River Power of the Outdoors Scholarship Fund, and the IPC Social Services Fund. By making a donation to PMUA, you are providing aid for not one – but THREE organizations as they live out their ministry to support those in need.
With Your Help
A resident at Kirkwood is not asked to leave because they outlived their financial means. Over the past 20 years, close to one million dollars in life care support has been provided to residents in need.
Low-income students are given an opportunity to experience the joy of learning through hands-on exploration in the Cahaba Environmental Center at Living River.
Families with emergency needs (i.e., utility bills, eviction prevention, transportation, and medical), as well as those who need education and job training support, receive critical financial assistance, loving kindness, and hope through IPC Social Services.
Your generosity changes lives. As Christians, we are called to love one another, "by proclaiming to all people the good news of God's love, offering to all people the grace of God at font and table, and calling all people to discipleship in Christ." (Book of Order, p. 1).
May we shine the light of Christ into these ministries as we show our support for the services they provide.
---
Ways to Give:
Mail a donation: Please designate PMUA on your check and mail to IPC at 3100 Highland Avenue S., Birmingham, AL 35205.
Make a gift online»
Leave your contribution in the offering plate on PMUA Sunday: June 18, 2023. Please designate "PMUA GIFT" on your check.
Questions:
Contact Patricia Harper at pharper@ipc-usa.org.
---
About Presbyterian Ministries United Appeal (PMUA):
PMUA exists to glorify God by raising funds for the benevolence activities of IPC, The Presbyterian Homes of Birmingham (Kirkwood), and Living River. Money raised is divided equally amongst the three organizations, supporting IPC's Social Services, Kirkwood's Life Care Fund, and Living River's Scholarship Fund. The appeal is governed by a board of directors from the three organizations and is led this year by Sandy Bean, Jim Snow, Denise Moore, Margaret Brunstad, Matt Lyons, William Widman, and Sarah Sexton.