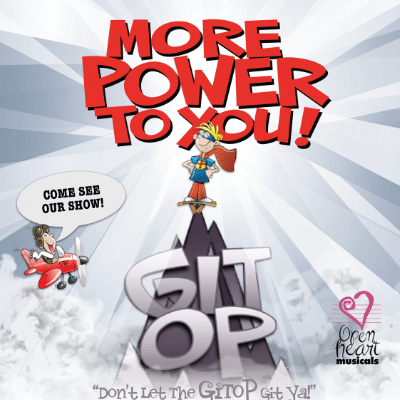 Have you ever had a GITOP? A Gigantic, Intimidating, Troubling, Overwhelming Problem! I know I have…
In IPC's Spring Children's Production of More Power To You, we met Alex, an ordinary kid with ordinary problems. She soon faces a GITOP, a problem that felt as big as a mountain. With the help of the other characters, Alex learns to look to God for the power and courage to face even the toughest of challenges. 
Despite being socially distanced this Winter, the "Show Went On!" This was my first ever Zoom rehearsed and recorded production. (Isn't technology wonderful!) 
I was so sad not to have any in-person contact with our actors, but Zoom made it possible to meet each week and learn about God's awesome power in our lives. We loved having Miss Catherine and Miss Kay lead us in discussion and prayer. They really helped us dive deeper into the stories of Joshua's Wall, Peter walking on water and the parable of the Wise(wo)man and Foolish Man. We so appreciate all of the parents and grandparents who supported the cast during the rehearsal and recording process. A special thanks to Rollins Thorpe for making WONDERFUL props, costumes and set pieces for the cast & to Nick Mathes for his magical AV editing skills!   
I am so very proud of these kids! We all faced several GITOPS during this production: USPS, power outages, COVID-19, just to name a few and we endured. So, I hope that you enjoy this production of More Power To You as much as we enjoyed making for you.
Watch More Power To You
More Power To You Cast List
Theo: Nathaniel Siegel 
Alex: Addison Beck 
Luke: Caleb Siegel
Lydia: Grace Rediker
Narrator: Nathaniel Siegel
Joshua: John Bannon Thorpe
Sergeant: Charles Thorpe
Young Soldier: James Fennell 
Peter: Caleb Siegel
Captain Disciple: James Fennell
Lookout Disciple: Amelia Anne Murphy "AA" 
Pirate Disciple: Donnie Wilkerson
Young Disciples: Evie Cate Murphy, Camille Rediker, Mille Seamon
Jesus: Rev. David Seamon
Wise Woman: Addison Beck
Wise Man: Caleb Siegel
Weather Reporters: Camille Rediker and Millie Seamon
Child: Millie Seamon