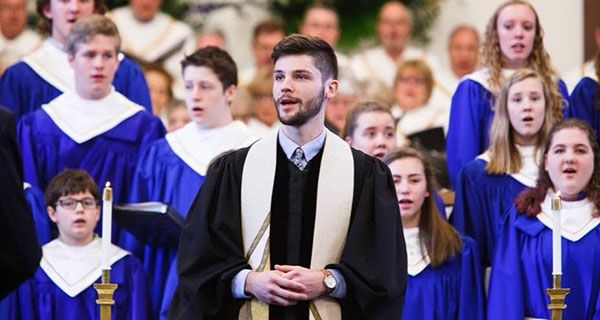 Meet Isaac Toney! The Athens, Ga. native began his own faith formation at First Presbyterian Church in Athens where he was an active participant in the youth ministry and youth choir. He holds degrees from Centre College and a M.Div. from the Candler School of Theology at Emory University. 
Q: Why did you decide to enter church ministry?
A: Ministry was not on my radar until half way through college when I completed a history major early and began to take religion courses. The religion department introduced me to worshipping communities experiencing homelessness, churches without physical buildings, refugee communities, and monasteries. It seemed that every semester shined light on the way God was at work in the communities around me and, by the time I graduated Centre, I knew my future pointed toward those communities. My time in seminary confirmed those feelings; I was called to be a part of worshipping communities that reflected an expansive view of God. 
Q: How did you sense God calling you to IPC's youth ministry?
A: Friends in seminary brought me to Birmingham many times before I knew about IPC. Those trips nurtured meaningful relationships that helped me trust the support system I would find in Birmingham. Within just a few weeks of prayerfully committing to Birmingham as a potential home, I was on the phone with David Seamon. The strength of volunteers, intergenerational support, and faith in the IPC Youth staff stood out as a clear call to ministry in a place that I trusted could be a home. I've enjoyed all the creative ways that first glimpse of a call has grown into today!
Q: As a teenager, you were an active participant in the youth group and youth music ministry at First Presbyterian Church in Athens, Georgia. What makes youth programming engaging and exciting for our young people?
A: Youth groups have the wonderful opportunity to be consistent spaces of rest and community. As a recent enough teenager and current young adult, the demand for young people to specialize in one hobby becomes a heavy, time consuming weight. My hope is that those hobbies are fulfilling, but I also hope for youth group to counter that intensity with rest in one another. I love campfires, ultimate frisbee, card games, retreats, late night chats, and mission trips. Welcoming communities that invite young people to rest in themselves and one another sparks engaging and exciting programming. 
Q: What do you look forward to the most about this role here in Birmingham?
A: I'm eager to listen for God's movement alongside Christians in middle school and high school. Their creativity and ear for God is life giving in my own ministry and has the potential to spread God's love well beyond IPC. I also look forward to programming and worshipping in the many contemplative spaces on IPC's campus. The labyrinth, sanctuary, stained glass, multiple worship services, acolytes, and gardens offer so many spaces for youth to tap into thoughtful, grace-filled elements of God around us. 
Q: Share a fun fact about yourself.
A: I pole vaulted in high school and college, and I still get giddy about learning a new outdoor activity. I'm focused on climbing and cycling at the moment, but please let me know other fun activities to do around Birmingham!