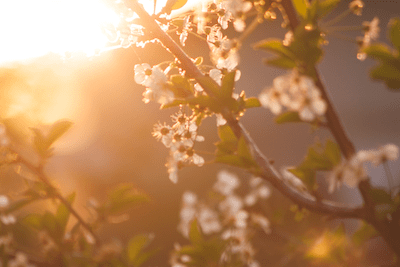 Even in darkness, God's light continues to shine. A temporary power outage during our 9:30 am Easter Sunday worship reminded us of that. The organ, lights and microphones may have gone out. But out of the darkness, the IPC Choir continued to lead us through a beautiful a cappella rendition of "Jesus Christ is Risen Today" and worship continued.
We simply have to open our eyes to see the wonders of God's world and the numerous ways in which we are joining God in the world. As Christians, we are called to be good stewards of God's creation. Independent Presbyterian Church has once again been named an Earth Care Congregation for the third consecutive year. We are continuing to put new eco-friendly practices in place and to educate you about ways to protect the Earth. These changes include the elimination of bottled water, straws and plastic stirrers; installing signs reminding people to turn off lights in unused rooms; using compostable communion cups; reducing the number of printed bulletins; removing invasive plants at the Children's Fresh Air Farm; and planning for an upcoming Farmer's Market in the church parking lot on Wednesdays. We aren't just saving the planet. We are also saving the church hundreds of thousands of dollars. We will also educate our members about being good stewards through environmentally-based Ted Talks coming this summer. In addition, you will find eco tips in this eUpdate and future ones. And this summer, we will teach our Summer Learning Program students how to care for this planet. You will find more information about our efforts in Sunday's bulletin. I cannot thank our Earth Care Team enough for all of their hard work in coming up with and implementing these programs. Thank you!
We are also joining God in the world by providing reading tutoring through STAIR. STAIR stands for Start the Adventure in Reading. IPC is one of several sites throughout Birmingham that provides one-on-one reading tutoring to second and third graders from Birmingham's Hayes K- 8 in the afternoons. Many of you know a lot about this program and have seen firsthand by serving as tutors and snack volunteers how this individualized instruction improves test scores, confidence and the chances of succeeding in life for these students. We will welcome these students to our 11 am worship service this coming Sunday so they can show you how you are helping to make a difference in their lives.
Finally, please remember that we will have an Evensong at 4 pm this Sunday. It's free and childcare is provided. If you haven't experienced this type of worship before, I highly recommend you attend Sunday.
See you Sunday!
Bill