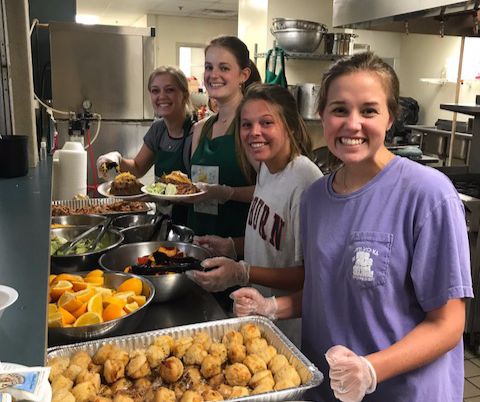 "I'm hoping to raise a child with no empathy or compassion…," said no parent. Ever. So, what is a parent to do? During Lent, we often give up something or take on a positive habit. That's a good place to begin.
Start with small habits of giving. Purchase groceries and leave them near the car so that each time you come to church, your child can grab an item or two to put in the Food Pantry collection baskets. Connect the dots for them. People in our community are always in need, so we will always give. And giving through the church reminds them that we give because God tells us to help others. This is different than doing service hours. You can complete service hours, but serving for God never ends.
Our family, along with friends, has served dozens of meals at First Light, a shelter for homeless women and children. We plan a healthy meal on a reasonable budget. We discuss the reasons women find themselves homeless. They have seen girls their age come through the line for dinner. Over time, they confidently took command, relegating the adults to the "back of the house" while they handled the serving line, bantering with guests and sharing smiles. Over the years, they have seen more and more children at First Light, and that breaks our hearts. Their empathy for the plight of the homeless has taken root, and they are forever changed.
Through mission trips to Mexico and Africa, tutoring at STAIR, serving at First Light and supporting the IPC Food Pantry, we have sought to incorporate doing God's work into the habits of our family. All of us have been given gifts that are to be used for others. Sometimes, it is simply the gift of saying "yes." Yes, I will bring some food. Yes, I can help serve a meal. Yes, I can carve out some time to tutor.
"Do not be conformed to this world," says Paul in Romans 12. This world tells us to focus on ourselves. Do not conform. Follow God. Serve Others.
Even after Easter, prayerfully consider the ways that you will continue to serve.
S E R V I N G  G O D  T H I S  L E N T
Donate to the IPC Food Pantry.
Serve dinner at First Light with your family or group on Saturday, April 6. Contact: Rev. Susan Clayton, sclayton@ipc-usa.org or (205) 933-3677.
Participate in the CFAF Extreme Makeover Day on Saturday, April 6 from 9 am- 12 pm and help the CFAF Garden Group prepare the Children's Fresh Air Farm for the Easter Egg Hunt, Bibletimes Market Place and Summer Learning Program.
Fill an Easter basket for one of 85 children at First Light Foundations Early Learning and Family Center, First Light or Presbyterian Home for Children by Palm Sunday. Contact: Lisa Burton (205) 602-4996 or Susan Dulin (205) 541-8606.
Share God's love and help neighbors-in-need by donating to One Great Hour of Sharing collection during all worship services on Sunday, April 14. The funds will help provide relief to people affected by natural disasters, food to the hungry, and resources to the poor and oppressed.