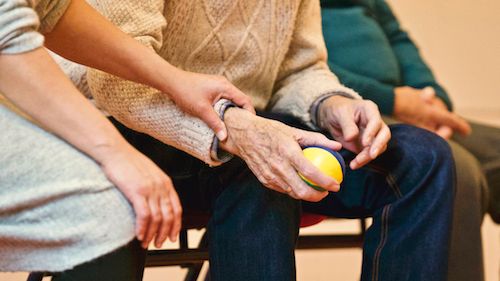 The most fulfilling and fun opportunity to be the hands of Christ could be awaiting you at Independent Presbyterian Church.
"Remember when you couldn't wait for recess period? You loved it! You will also love our Recess. It will ooze with love, joy, fun, games, sports, art, music and best of all, happiness and fellowship," says IPC member Lynne Simmons.
Lynne began volunteering with a similar program for people with memory loss and their caregivers at another Birmingham area church 15 months ago.
"It's been the most rewarding, happy, fun, uplifting and interesting volunteer job I have had," she says, urging
IPC members to take a break and join Recess Respite Program.
This isn't your typical recess. Trained staff and volunteers will lead activities and eat lunch with participants living with mild to moderate memory loss on Tuesdays and Thursdays in Highland Hall from 10 am - 2 pm. It will be a healthy dose of fun with exercise, music, crafts, games, service projects and a daily devotional.
"We're going to laugh a lot," says Recess director Pat Flowers who hopes to incorporate her theatre background
and knowledge gained by serving as the director of development at Episcopal Place into the program. "Every person who comes to Recess will feel valued."
That's what makes Recess and similar memory care programs like it unique. Participants will work alongside the
volunteers, unaware that they aren't the volunteers themselves. It's more than an opportunity for fellowship. It's also a reminder to the participants that they are still vital to their church, family and community. The program also helps their caregivers who will be able to run errands, rest, and even make new friends at the monthly support group.
Yet, when Pat visits similar programs, all she sees is Christ's call to serve and love others fulfilled.
"Those rooms were filled with love and joy," she says.
"The key to success will be the volunteers. It's up to you, IPC members. Step up to the
plate. It will be the best day of every week," says Lynne.
GET INVOLVED
The program starts May 1. Volunteer opportunities include:
• Help preparing for the program launch
• Set-up on Tuesdays and Thursdays from 8:30- 9:30 am
• Clean-up Tuesdays and Thursdays from 2- 3pm
• Serve as a companion to participants during program Tuesdays and Thursdays from 9:30 am- 2 pm
• Assist with lunch service Tuesdays and Thursdays from 11 am-1pm
• Play keyboard for sing-alongs (flexible)
• Perform for program—music, drama, dance, drumming, storytelling (flexible)
• Conduct art or craft class for program—easy paint or craft project (flexible)
• Organize and maintain activity supplies Monday and Wednesday from 1- 5 pm
• Assist with administrative duties Monday- Thursday (flexible)
There is a special volunteer training/information session Tuesday, April 17 from 9 am- 12 pm. Lunch will be provided. If you are interested in volunteering or know a possible participant, please contact Pat Flowers at 205-933-3723 or pflowers@ipc-usa.org.