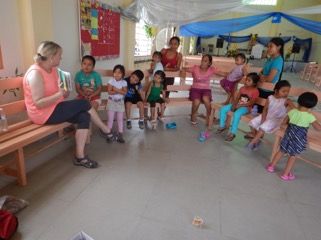 This year is quickly coming to a close. It's time to seriously consider how and where you will serve in 2018. For years, IPC mission teams have carried out Christ's ministry in our own community and around the world. Dr. Salvadore de la Torre, the missionary who founded our Mexico mission trip partner Medical Mission, Inc., recently came to Birmingham and told members- the work changes lives. Any past mission trip participants will agree. The experience will impact the lives of the people who you serve, as well as your own. Consider lending a hand with light construction work on a church and assisting with Vacation Bible School in Mexico or head to Zambia to work with child or older adults in different areas. Here's a look at the mission trips...
Chiapas, Mexico (May 31- June 7, 2018)
Service: The team will do light construction work on a church and help with a Vacation Bible School for local children. This partnership with Medical Mission, Inc. and missionaries Dr. Salvador and Irma de la Torre is a few years old and growing.
Cost*: $875 based on $600 airfare, $75 excursion, $200 in spending money
Mwandi, Zambia (May 26-June 9, 2018)
Service: A team of up to twelve people will participate in several different activities at Mission Mwandi
including: light construction/maintenance projects; work with children at the Orphan and Vulnerable Children Center, a local pre-school and the Basic School (grades 1-12); and assist with the "elderly orphan" center, the mission hospital and outpatient clinics, and the local United Church of Zambia congregation. IPC has had a partnership with Mwandi Mission for more than 25 years.
Cost*: $3,100 based on $2400 airfare, $400 excursion: $300 pending money
*The airfare is based on November ticket prices. The price will increase closer to the trip. Cost also does NOT include any require immunizations. IPC will cover housing and local transportation.
The deadline is sign up for both mission trips and pay the deposit of $500 for Mexico/$1,000 for Zambia is January 5, 2018. The remainder is due by the time of departure.
Dates for planning and educational meetings for the teams TBA.
Interested? Contact Rev. Susan Clayton at 933-3709, sclayton@ipc-usa.org.