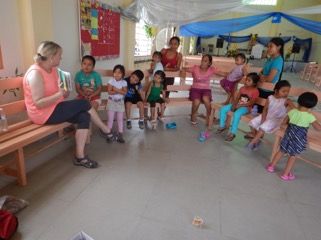 IPC is planning to take adults and youth on global mission trips in 2018 to Chiapas, Mexico and Mwandi, Zambia. The deadline to apply is November 1. Here's what you need to know about the trips:
• Chiapas, Mexico (June 2-9, 2018) Chiapas is in the southern region of Mexico. This rural area is quite safe. The team will do light construction work on a church and Vacation Bible School with children from the community under the leadership of Mexican missionaries Dr. Salvador and Irma de la Torre. The couple retired home in Chiapas after many years of service as PCUSA mission co-workers and have begun new work with Medical Mission, Inc. doing evangelism, church planting and working on the development of several community health centers. Trip participants are only responsible for their own airfare.
• Mwandi, Zambia (May 26-June 9, 2018) IPC has had a mission partnership with Mwandi, Zambia for more than 25 years. A team of up to twelve people will participate in several different activities including: light construction/maintenance projects, work with children at the Orphan and Vulnerable Children Center, work with a local pre-school and with the Basic School (grades 1-12), and work with the "elderly orphan" center, with the mission hospital and outpatient clinics, and with the local United Church of Zambia congregation. Trip participants are responsible for their own airfare and for the game park excursion at the end of the trip.
Interested? Contact Rev. Susan Clayton at 933-3709, sclayton@ipc-usa.org by November 1. Scholarship money may be available for those with financial need.