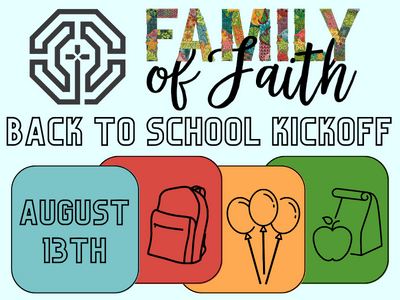 Welcome back from the summer break! We are excited to invite you to the Family of Faith Kickoff event on Sunday, August 13 from Noon to 2 pm in Highland Hall. Whether you are returning after a fun-filled summer or joining us for the first time in a while, we are thrilled to have you with us.
Last year we had over 350 members and guests join us for this event, and we can't wait to see even more faces this year. The event is family-friendly, and all congregation members are welcome to join us for lunch— so bring your appetite!
You can expect a fun-filled afternoon with activities for all ages. We'll have a toddler bouncy for the little ones and an All-Star Sports Inflatable for the older kids. There will also be facepainting, the Frios Popsicle Truck, popcorn, music, and lunch featuring delicious hamburgers from Kim's Kitchen. And don't worry, we'll have air conditioning to keep you cool on this hot summer day. Let us know if you are coming for lunch.
Our regular worship schedule resumes on Sunday with the 8:45 am and 11 am services. Children's Catechesis of the Good Shepherd and Youth Sunday School classes will also resume, and we will have a special Blessing of the Backpacks during the 11 am service. So, dress comfortably and get ready for a day filled with fun, fellowship, and faith.
Later that night, we welcome everyone to join us for the family-friendly Table worship service in Highland Hall at 5 pm. Additionally, all 7th-12th graders are invited to the Youth Kickoff at Blackjack Farms from 5 pm to 7 pm.
We can't wait to see you at the Family of Faith Kick-off events and welcome you back to our church community. Let's make this year one to remember!