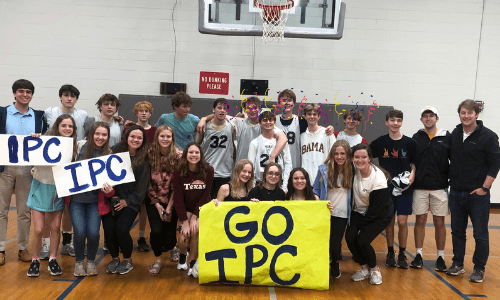 This season I had the privilege and honor of coaching IPC's high school guys in the Mountain Brook Baptist Basketball Church League. Every game I coached was so exciting, and the guys always brought the same enthusiastic energy to the table.
In our first game of the season, we lost by a pretty large margin to St. Lukes, but the players did not hang their heads at all. Our first win came the following week against Brookwood Baptist, and we ran from there. We won out in the regular season and finished with a 4-1 record.
Our signature win came in the semi-final game against Mountain Brook Baptist, where we came back from a double-digit deficit and won on a buzzer-beater. We finished our season with a 51-40 victory over Vestavia Hills Baptist Church in the championship, making this team the first champions in IPC Church League History (or so I was told).
Our team was led by seniors Bibb Albright and James Long, who gave our team very high energy and leadership every single week. I was a part of three teams as a player, but my season as a coach was easily the most fun. Our players were so fun to coach and were the most passionate out of every team.
Thank you so much once again for giving me the opportunity to coach these guys, and hopefully we can win again next year!
---
Coach Clark Smith grew up at IPC and is currently a freshman at Samford University. He was an active member of IPC's Youth Group and played church league basketball. A graduate of Mountain Brook High School, Clark is the son of Dorothy and Jodie Smith.