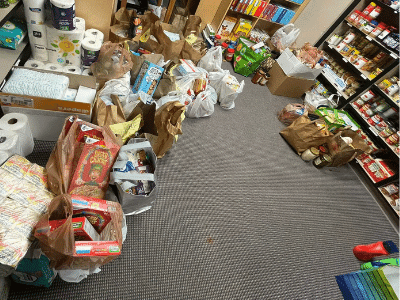 Harvest for Hunger
Thank you to everyone who filled Harvest for Hunger grocery sacks in November. It was one of our biggest successes, and we received at least 150 filled sacks! Plus, we received large loads of food from two other sources, and our Food Pantry Partners continue to bless us with items for the Food Pantry and Blessing Boxes. Your generosity makes it possible for us to assist our neighbors in their time of need, and we are experiencing greater need during this season. You will recall that some of the items listed on the Harvest for Hunger sacks were items for an upcoming new ministry, Weekend Buddy Bags.
Weekend Buddy Bags
In early January, we will welcome volunteers to help us sack 111 Weekend Buddy Bags for children at Hayes K-8 school. IPC member Pam McLean and IPC Social Services Coordinator Evelyn Puckett are coordinating this effort in Room 104. We need your assistance bringing in the items, sacking the bags, and delivering each month. Our first delivery date is Thursday, January 20. Please see the list, and note that it is helpful if you would purchase in bulk. The items listed are recommended by community food banks and other area organizations that provide similar simple meals and snacks for children who are food insecure. 
Requested items for Weekend Buddy Bags: 
Mac & cheese
Hearty soup/beef stew
Chef Boyardee
Cheese crackers
Apple sauce/fruit cups
Fruit/granola bar
Grits packet
Oatmeal packet
Juice boxes
Small water bottles
For more information, please contact Evelyn Puckett via email or at 205 531-5565.
Thank you for helping us share the Love of Christ with children in our area.