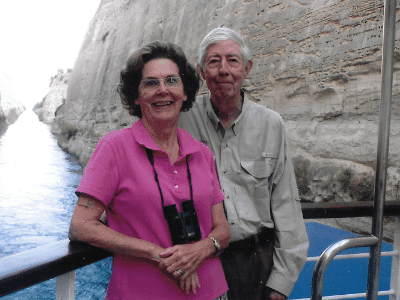 I recently had the opportunity to meet with Tom Williams (longtime IPC member) together with Patricia Harper (IPC's Development Manager) to discuss the IPC Foundation's Pastors' Support Fund, which was formed in 2018 by Tom and his wife Alice.
Tom shared with us that he and Alice spent a lot of time planning this gift. They established a charitable remainder trust with the full intention of Alice receiving distributions from the trust during her lifetime, which they thought would exceed Tom's.
As we all know, life has an uncanny way of not exactly turning out the way we expect. Soon after all their legal maneuvering (e.g., establishing trusts, rewriting wills, etc.), Alice was diagnosed with stage 4 melanoma and died in November 2019.
While we continue to mourn the loss of Alice, her love for IPC continues to live on through the Pastors' Support Fund. The purpose of the fund best comes to life through Tom's words sent to us recently in a hand-written note.
"I realized the importance of so-called legacy gifts many years ago when I was the President of the Botanical Society and set aside two major gifts. Later we were able to hire a very-qualified outside Executive Director solely because we had a Foundation.

In many ways the IPC Foundation is really the 'foundation' of the church. When Alice came down with melanoma, we searched for ways to support the IPC Foundation and realized a pastor-backed gift was needed. Hopefully down the road others will join in adding to our gift.

Leadership from the top is essential, and our gift is to help establish this for years to come."

~ N. Thomas Williams
Gifts to the IPC Foundation extend IPC's ministries throughout the community and around the world. If you would like more information about the Foundation, please contact me at 205 933-3705 or via email.