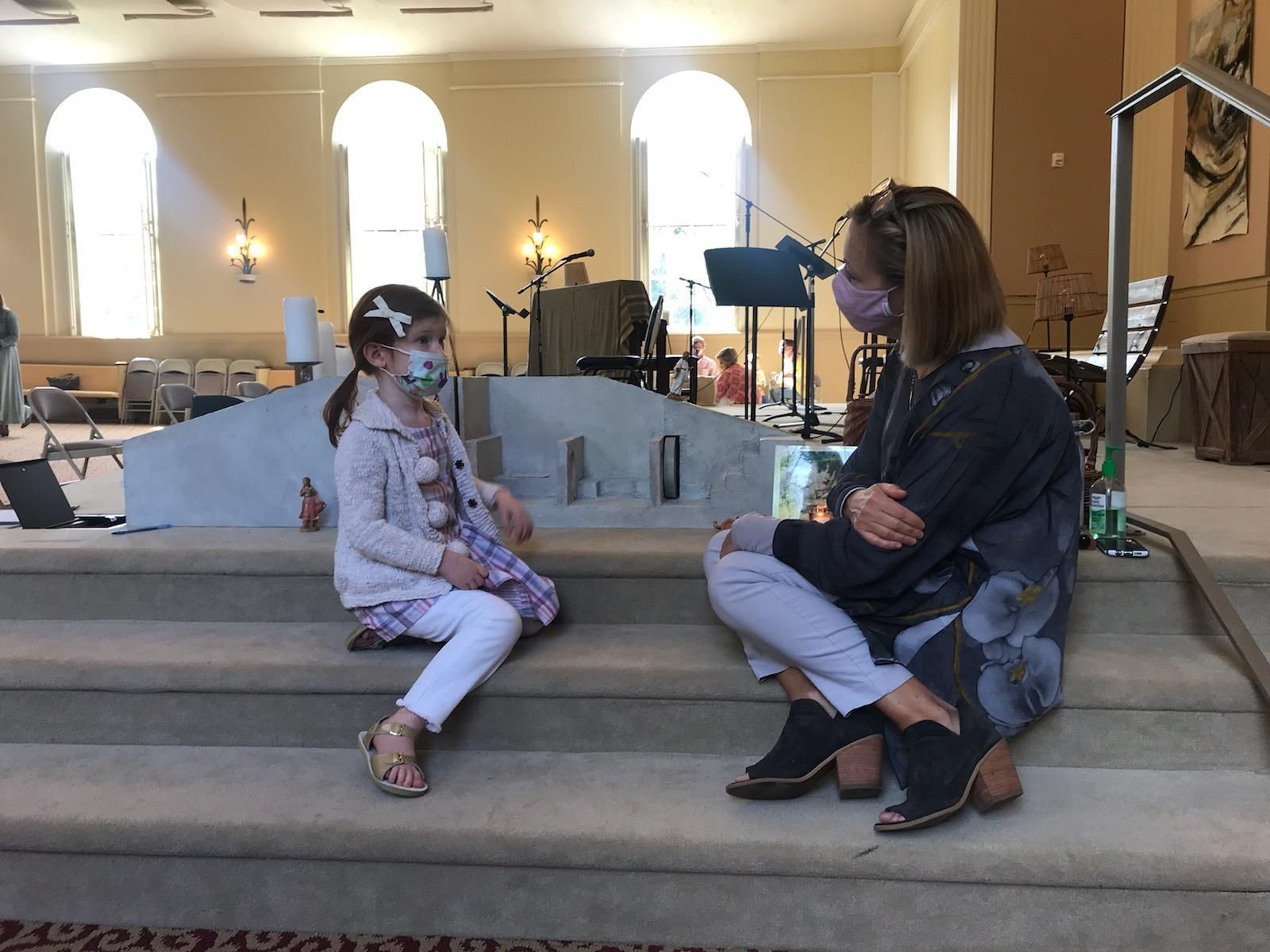 The design of IPC's Virtual Atrium (Catechesis of the Good Shepherd Sunday School) provides a loving and nurturing environment to support the children of IPC in becoming active participants in the church community. Re-imagined during the Covid-19 pandemic, children have been gathering virtually each Sunday for Atrium as our Catechists share developmentally-guided Christian religious formation where the focus is on the contemplation and enjoyment of God. 
As part of IPC's Annual Easter Egg Hunt, Catechists Margaret Cobbs and Jean Shanks joined me to share the Easter story from the book of Matthew 28:1-8 using the atrium work, "The Resurrection." Under normal times, the children of IPC see this work in person in Level 1 Atrium (ages three year old through 5K) and Level 2 Atrium (1st through 3rd grade) on Sunday mornings during Lent and Easter seasons. The materials for the lesson include a model of the empty tomb where Jesus was laid after he died on the cross and the Bible figures, including the two women who went to the tomb, an angel, and the two guards at the tomb.
First the children hear what a tomb was used for and are reminded that Jesus was a real person, who lived in Israel, he died on the cross and was laid in the tomb after he died. We light a candle before we read from the Bible, remembering Jesus is the light of the world, and then hear how the women who went to the tomb were greeted by an angel and told, "Do not be afraid; I know that you are looking for Jesus who was crucified. He is not here; for he has been raised, as he said." 
We were able to gather in person with our families at this year's Egg Hunt on April and used the time together for Easter Atrium work. After I read the story to one four-year-old girl, she retold the story in her own words using the angel and two women, saying everything the angel had said including how that Jesus was going to be in Galilee. We also wondered how the tomb was made and who the disciples were, and talked about why the women were overjoyed to see Jesus had been raised from the dead!