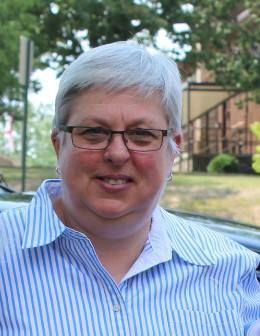 Service Recognition
After 35 years of continuous dedicated service, Marsha Harbin is retiring.
To say that we are going to miss Marsha is an understatement.
She is the backbone of the IPC Foundation, and everyone knows that she's the custodian of our membership data and knows everything about all of us.
How can we possibly survive without her?
Many of us have tried to reason with her and convince her that she's too young to retire but to no avail. So we have until March 31 to say our goodbyes, as she has graciously given us until then to find her replacement.
Replacing Marsha is no easy task. Think about it — she was barely past her teens when she first started with IPC as the Membership Secretary in 1985. Shortly thereafter, she added Systems Operator to her title.
Marsha was essentially IPC's first "help desk" assistant, as computer maintenance fell to her. She also maintained IPC's membership database, which continues today.
She currently serves as the administrator for our membership system (ShelbyNext) and is responsible for ensuring all 2,000+ member records are accurate, including name, address, spouse, phone numbers, emails, committee information, etc., etc.
She manages our pledge campaign and all giving for both the Church and the Foundation. She is very involved with the grant-making process for the Foundation, including keeping track of approximately 150 grant requests received throughout the year and distributions totaling $2.7 million.
Needless to say, there's probably not one member at IPC who hasn't had contact with Marsha Harbin.
So please be sure to give her a call or reach out when you get a chance to let her know how much she is loved and will be missed.    
In appreciation of Marsha: Hear from IPC Members
"I think all of our lives have been brighter by knowing Marsha.  She has been a steadfast presence at our Church, and she gets things done with grace, positivity, and humility. We all love Marsha. Job well done!"
~ Beth Adams, IPC Foundation
"Every good organization needs one person who 'makes the trains run on time.' For IPC, that person is Marsha! She juggles so many things at once and never gets flustered or irritated.  Can we please clone her? Seriously, what a true blessing she has been to us at IPC, and we thank the Lord for her and wish her many happy years of retirement!"
~ Beth Hillhouse, IPC Stewardship
"Marsha always tries to help and does so with a smile. I think it will be difficult, if not impossible, to replace her."
~ Donna Smith, IPC Foundation Grants