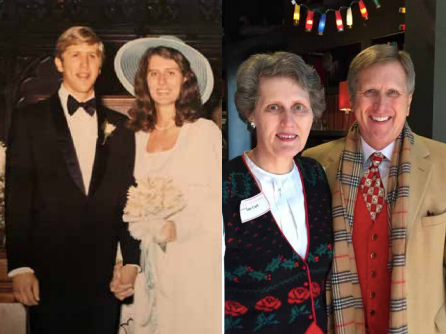 As co-chair of the 2015 Pastor Nominating Committee, Lee Walthall prayed that the third time would be the charm in recruiting Dr. William J. Carl III to be IPC's seventh Senior Pastor.
"God had already tried twice to get me to Birmingham," Dr. Carl explained of offers of the Birmingham pastorate in the mid-1990s and again in 2005.
Dr. Carl looks back over fifty years of God "dropping seeds" leading to an eventual acceptance of IPC's call. Relationships, going back to the 1960s when high schooler Jane Alexander met Felix Yarbrough and Carl Murray through her home church in Maryville, Tennessee and later with IPC Interim Pastor Jerry Shetler, who played a role in leading Dr. Carl to First Presbyterian Dallas in 1983. "As a minister, you know when you have the call, and you know when you have the end of that call," Dr. Carl says of his time at IPC.
A man whose resume fills five single spaced pages, from authoring books and a play to teaching and preaching from Oxford University to churches in 45 states and nearly as many foreign countries to speaking a dozen languages, cannot be condensed into a few paragraphs. Of all of the accolades and accomplishments over the years, the central story of Dr. Carl's life is his more than 50-year love story with his wife, Jane.
When IPC's former interim pastor Dr. Morgan Roberts learned that Dr. Carl was coming to Independent, he chuckled, "You're going to like Bill. You're going to love Jane."
The call to a pastorate is always an outreach to partners, an understanding that Jane brought to their marriage in 1971. The Carls met in a Baptist Student Union cafeteria sharing rhubarb pie as freshmen at the University of Tulsa. Jane was dating a football player at the time, and music major Bill "scared the boyfriend off " by inviting Jane and her date to hear him sing the role of the drunken gardener in Mozart's opera "The Marriage of Figaro."
"Bill Carl has brought scholarship along with down home preaching to which you can relate," sums up Lee. Pondering retirement in the mountains of Tennessee with a man of prodigious energy, Jane is confident that Dr. Carl will not lack things to do. "He has a riding lawn mower, and I will tell him what to prune and which weeds to pull. He will have a computer to create and a piano to play, and he knows where the tennis courts are."
Dr. Call doesn't plan a lot of retirement napping. "I'm going to play more tennis, write, turn my play into a musical, speak around the country, travel for fun and have my Saturdays back for watching college football games since I won't be spending every weekend memorizing sermons!"
Please join us via livestream at 11 am on Sunday, April 26 for the Carls' final service.