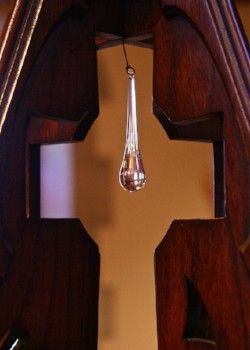 So much has changed within the last week here at IPC. Our church offices are now closed through April. In-person worship, classes and groups are also cancelled until May. 
Just a few weeks ago, people were planning for a mission trip to Mexico, a Focus on Faith trip to Pittsburgh Theological Seminary and the IPC Choir tour to France. Our children were working hard on the spring children's musical. Our staff members were planning Lenten activities and worship for Holy Week and Easter. No doubt many of you were also looking forward to Spring Break vacations, recitals, spring sporting events and graduations. Now, our inboxes are dinging with alerts about emails containing new cancellations, new postponements. But in the midst of so much change and uncertainty, one thing remains unchanged—God's love for us.
During this season of Lent, we remember Jesus' journey to the cross and his sacrifice made out of love to save us. We will continue to walk with Jesus together. But I can hear some of you saying, "But how, Dr. Carl, when we can't gather together?" A sanctuary is simply a physical space for worship. God is all around us, no matter where we are, and our staff is creating new gathering places for us online. Every Sunday at 11 am, we will continue to worship together online through our YouTube channel and on Facebook. We invite you to join us in those digital spaces as well for a daily video devotional Monday—Friday and for Sunday school. We will also post classes for adults, youth and children on Sunday mornings. 
Our Congregational Care Ministry Team is continuing to reach out and serve our members, particularly those who are more vulnerable during this time. Our Witness Ministry Team is also working to keep our IPC Food Pantry stocked to feed our neighbors. Right now, you can still drop off donations at the door off 31st Street South on Wednesdays and Thursdays from 9 am—1 pm. The food pantry is assisting at least 24 families each week. Donations can also be dropped off using Shipt, Amazon Prime or Walmart delivery.
We continue to find new ways to engage you in faith formation, worship and ministry during this time. But if you ever need anything, please do not hesitate to reach out to one of us on the pastoral staff. Keep safe!

"See" you Sunday!
Bill