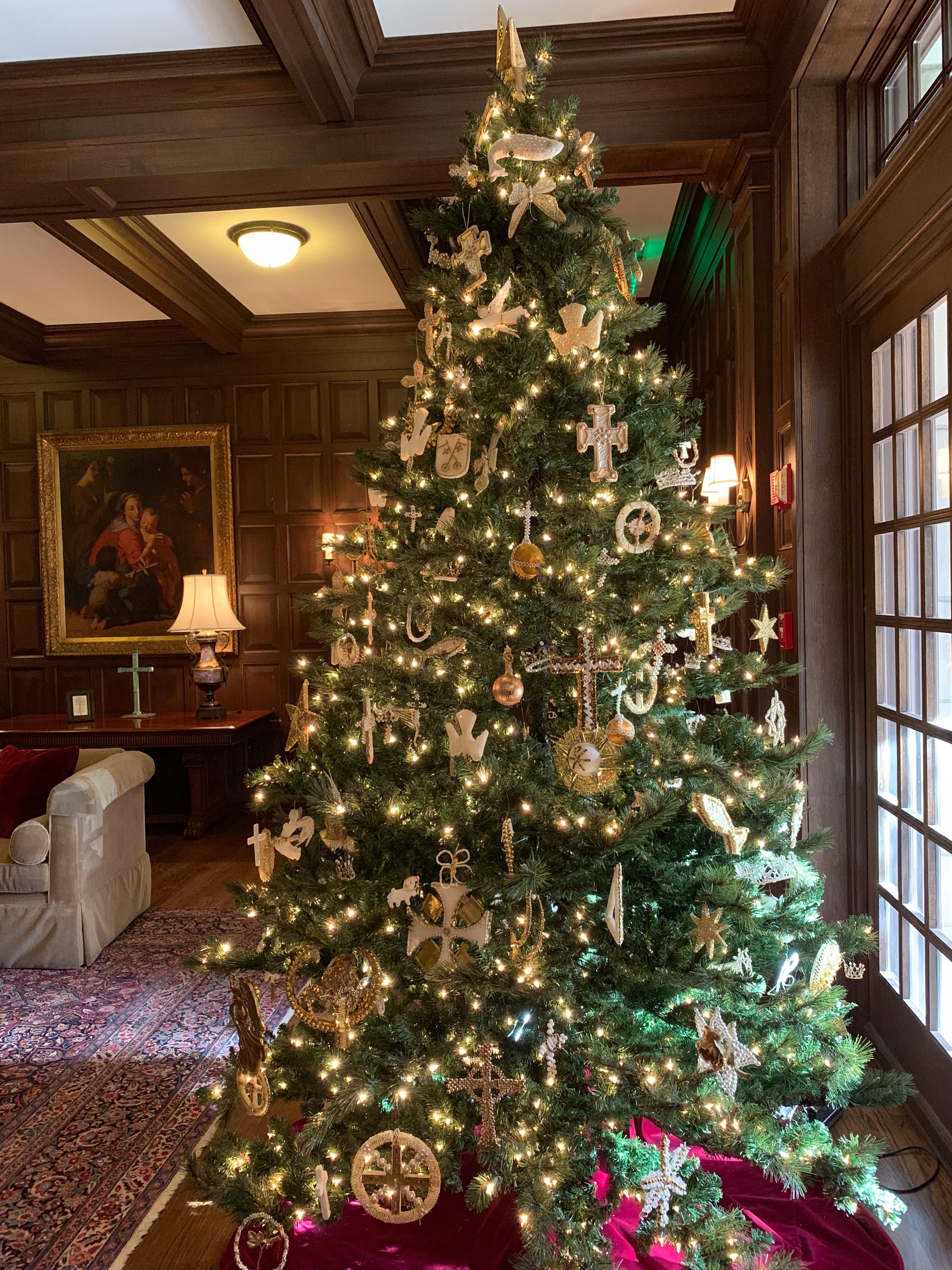 We often find ourselves reminiscing around the holidays and sharing cherished Christmas memories. Last weekend's Holiday House Tour certainly brought back lots of memories! Several people recalled the words of our founding pastor, Dr. Henry M. Edmonds, following the first tour in 1949. He wrote, "I salute the church for its Holiday Houses; and the owners who open their houses, forgetting trouble, expense and risk to carpets and furniture, that we young people, contemplating building or change, may get new insights into beautify, convenience, charm or just a chance to get out of old ruts. And this for Christmas: God is, not was; He speaks, not spoke." Seventy years later, we are saluting new homeowners and new volunteers for making this tour such a great success. Hundreds of you gave your time to bake cookies, drive shuttles, serve as hosts or hostesses in homes, serve tea, sell tickets, and decorate. Thanks to your support, we welcomed nearly 1,000 people into three homes as well as here at our beloved church home. Some of those guests even attended worship with us last Sunday! In all, we raised around $27,000 for the Children's Fresh Air Farm, First Light and STAIR. We made all of that happen together.
At the Session meeting earlier this week, our incoming Deacons and Elders were examined and approved for service as leaders at IPC. We also shared our favorite Christmas memories. There's no doubt that new memories will be formed in these final days leading up to Christmas and even going into theNew Near with new officer ordination and installation at the worship services on January 12.
2020 will bring big changes for Jane and me as well. We have made the decision to move my retirement to April 30, which will allow for an interim pastor to be called and give our PNC more time to search for the next senior pastor. Since I began preaching here on Easter Sunday in April 2015, this will complete the five years that was the original plan. I look forward to these next four months with you knowing that Jane and I will leave with cherished memories of our time here at IPC and in Birmingham. I look forward to seeing you on at least one of the Sundays in January, February, March and April as I share with you a series of sermons from Paul's letter to the Philippians. We will get through most of the letter before I leave.  
This week, we already said goodbye to another staff member. Assistant director of Youth Ministries, Emily Frandsen, is continuing her M.Div at Dubuque Seminary. In addition, she has been awarded an incredible opportunity to travel to Thailand and learn about the ministry and mission there for three weeks in January. Once she returns, she will begin an internship with Kirkwood by the River, an opportunity made possible thanks to the IPC Foundation. She will still continue to lead a small youth group, so you will see her around IPC. Please wish her well when you see her!
Please make time to worship with us this Sunday and on Christmas Eve. This Sunday, our children will have Sunday School in the Atria. All adults and youth are invited to the Great Hall at 10 am for fellowship and light refreshments. It's an opportunity to share your own Christmas stories and memories. In keeping with our tradition at IPC, we will have the family-friendly Nativity Service on Tuesday at 12 pm in the Sanctuary. The service includes the children's Nativity choir. The Sanctuary doors will reopen at 3 pm for the 4 pm Service of Nine Lessons & Carols. A second Service of Nine Lessons & Carols will be at 6 pm. They are the same services. Both include the candlelight processions. Please join us and invite a friend. This will be my last Christmas Eve with you, and as in previous years, I have written a poem for the homily. It is titled simply "A Shepherd's Tale."
Finally, I'd like to leave with you a devotional that I wrote for my previous employer, Pittsburgh Theological Seminary where I served as President for ten years before coming to IPC. You can read it here or click here to listen to an audio recording. I hope you enjoy it!
See you Sunday!
Bill